Why India is the best country I have ever been
Anyone who knows me a little will know that I would say India is my favourite place in the world.
I moved there when I was 28 to teach Science in an International School in Bangalore. I didn't choose India because I was interested in it especially, I actually had job offers from Uganda, Dubai and Brazil which I was also interested in. I mainly thought it's not TOO far from Australia if I am very homesick.
Then I got there.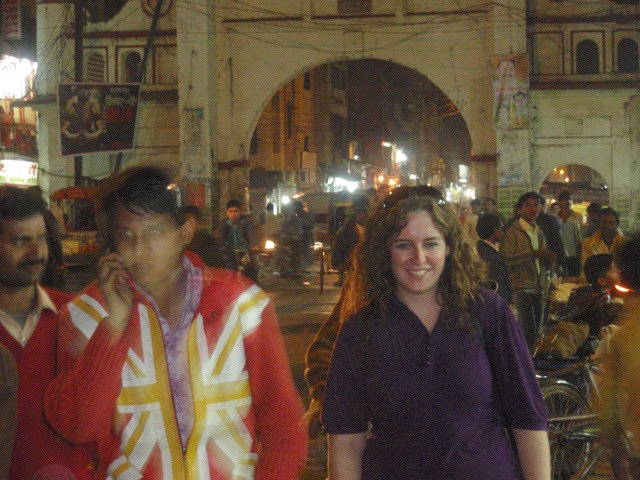 I just felt at home from day 1. I think about this a lot, and it's really hard for me to articulate what makes me feel this way.The last time I was in India the morning I was leaving I walked down the street to go to the grocery store. There was a lady selling jasmine flowers, so I bought some to put in my daughter Scarlett's hair. The smell of them makes me feel nostalgic. They were the first scent I associated with India, as the admin manager of the school I worked in (when i first moved to India) picked me up from the airport and put jasmine flowers around my neck when I arrived.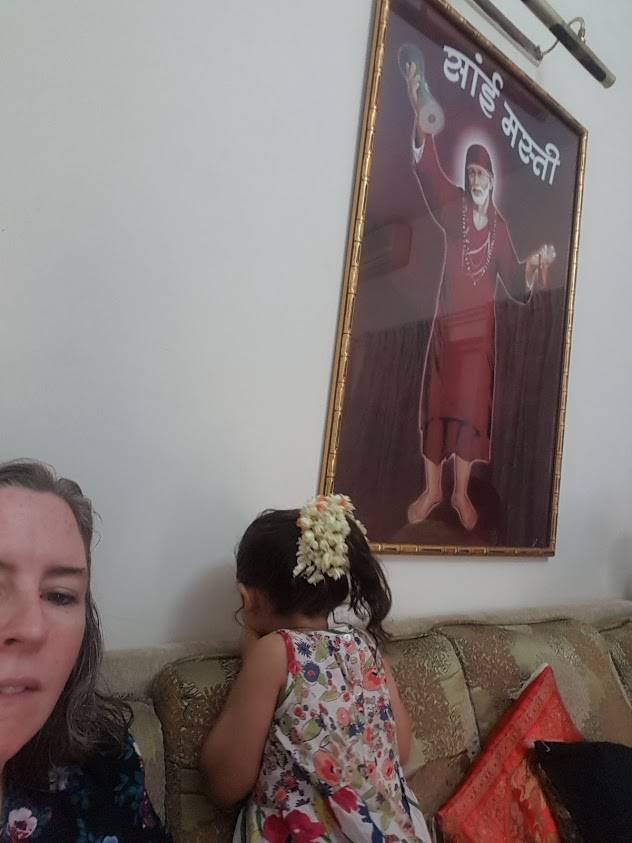 Scarlett with jasmine flowers in her hair.
So I was walking down the street, I went to the store and got some yoghurt for my kids, and I just felt very sad that I was leaving. I chatted to the guy in the shop as I had kind of made friends in the few days I was there and had been to the shops a few times.
I was looking around I was standing on Kammanhalli Main Road and I could see a cow on the road. There was dirt and some rubbish around. There were some uneven parts of the road and the footpath and holes in the foot path.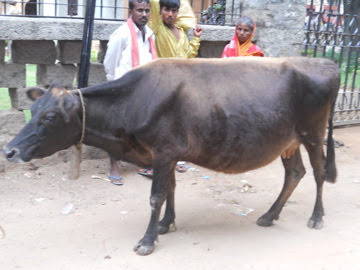 But I was almost crying looking around, smelling the jasmine flowers and thinking that today is the last day I'll be walking down this street, the last day I'll see this man in the store and the last day I'll smell the flowers for a long time.
Honestly I'd love it if someone else could articulate for me why I feel so at home in Bangalore. I ask my husband every week when we can go back. I 100% plan to retire to India, and I really want my children to spend some of their childhood living in India.
There are so many amazing things about India.

First and foremost it's the people and how friendly and welcoming they are.
I was walking through a village in the first week that I lived there and the people who lived in the village didn't speak English. That I was clearly from another country didn't bother them at all, in fact they invited me into their house and offered me food and soft drink. I was very much struck by how open-minded they were to welcome me into their house when I looked and sounded different to them. I tried to imagine how the reaction in Australia would be if someone who looked and sounded different was wandering around out the front of your home, and what my reaction would be. I don't think many Australian's would invite them inside.
In Australia we will be arguing over whether someone can bring their partner depending on how long they been together or if they have met the couple. I heard a conversation in the tea room at work the other day (in Australia) about people not inviting the partner of their friend to their wedding if they didn't know them well. In India, you can invite someone who has never met either the bride or the groom. Some of this does have to do with cost, the per head cost of a wedding in India versus Australia is a lot different, but basically, if you are invited to a wedding in India even if it's expensive, your whole family is invited. That can extend to cousins etc as well, not just immediate family. In Australia, there have been family weddings that my mum is invited to, but I am not. In India that just wouldn't happen.
When I moved into a new apartment in Richmond Town, my neighbour brought me food every day for the first week. She had not even met me, she just sent the food over with the security guard (watchman). That's just not something that would happen in Australia. We became friends this way. I went to her place whenever there was a festival, she invited me to a family wedding, the first Muslim wedding I went to. (Ahh the biryani at Muslim weddings!)
We also just used to sit on her couch and gossip :)
You can rock up to someone's house in India with no notice with no problem at all. I know quite a few people in Australia who would find that quite rude and off-putting, and would much prefer you plan in advance before coming over. If you come to someone's house in India and they are sitting down to dinner they will absolutely invite you to join them. There are usually multiple dishes, so there will be enough food for everyone, and to make it go further, a few extra chappati's or rice can be made. People will invite you along to weddings, parties or any social gathering. There is no big deal about headcounts, if you have a friend who's going to a function they are likely to invite you along.

When I visit India now for holidays I have at least 5 families and also single friends offering for me and my friends or family to stay with them. It's not that it's not inconvenient, but to them it's more important to spend time with people and share stories, food, and love. The don't focus on the inconvenience. In Australia, (being an individualistic culture) we put our own needs first and not many people would offer for a whole family with young kids to stay with them unless they are within their immediate family.

People will help you.
I used to do my shopping for vegetables in Johnson Market in Bangalore, so I knew the stall holders. One day I was driving past, and I somehow got my car stuck on a mound of dirt in front of the market. I really couldn't move the car, so I ran inside the market, called the guy I knew the best and told him my car was stuck. He called a few friends, and they ran straight out the front, and literally picked up my car and lifted it off the mound so I could carry on driving!
Once I was getting on a train with my students for a trip to Agumbe, and myself and another teacher were standing outside the train when it started to move! The students were already on with another teacher, so we started running and just had to jump on anywhere. We got into a carriage that was not our assigned one, and people literally had to grab us and help us on, as the train was moving. They were happy to shuffle around and make space for us, even though that meant they were more squashed in than before.

"Swalpa adjust madi" is a saying in Karnataka which means "make a little adjustment" and seems to fit all manner of situations. I think the case on the train is a good one. Everyone is ready to make a little adjustment themselves to make life easier from others around them.

The food!
The food! Wow, I can't believe there are so many different kinds of food!
Even within the state of Karnataka, there is Coorg food which is so different to the food in Bangalore, Mangalore and Mysore food is different too. All of the foods I'm describing here are from only one state in India. So imagine the variety of foods available throughout the country!

This is masala dosa, a yummy lentil and rice "crepe" filled with potato curry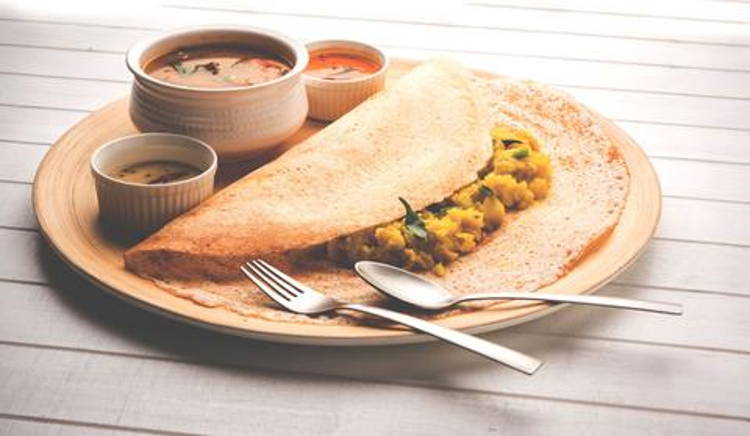 This is Mangalore Chicken Ghee Roast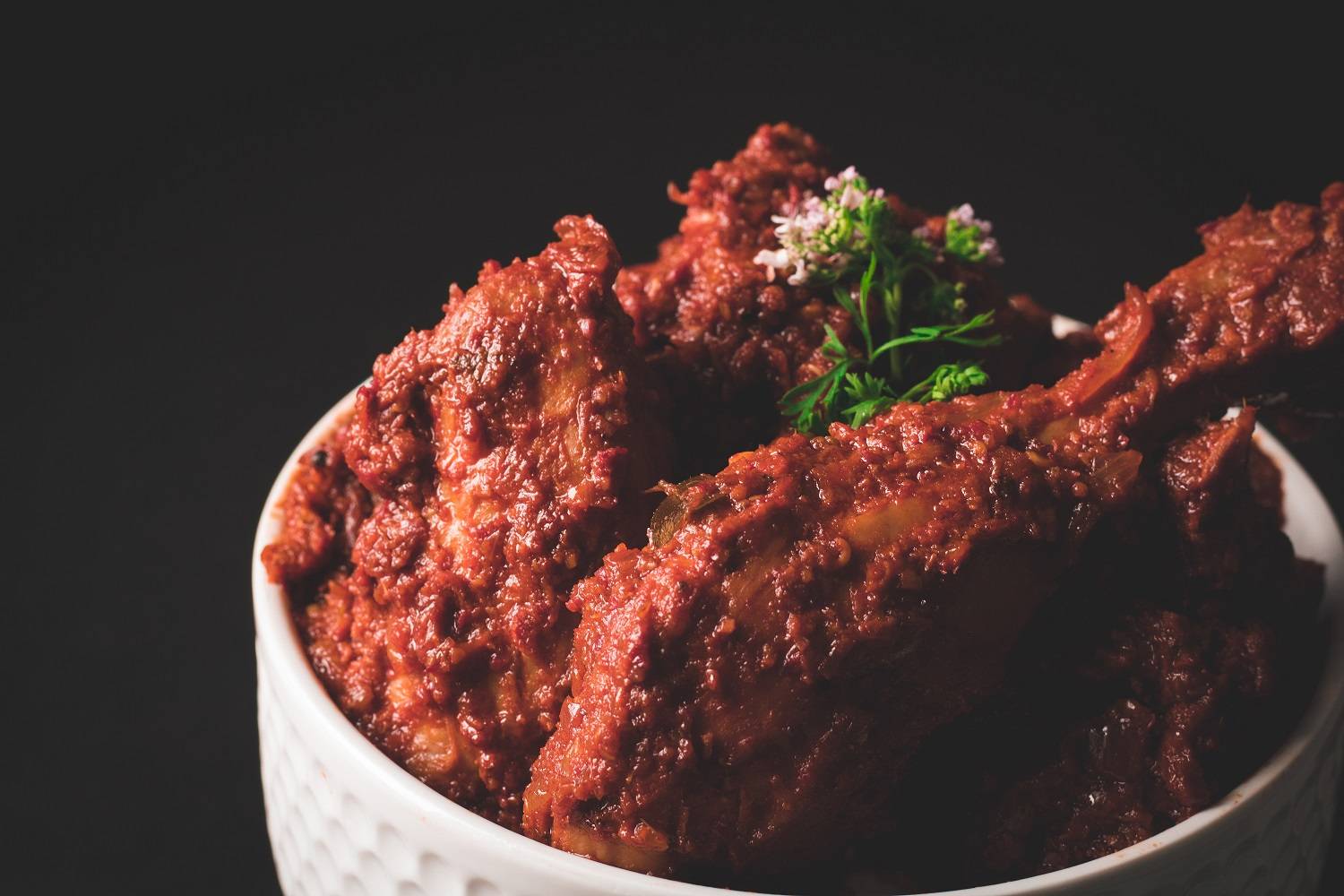 This is a fried fish dish from coastal Karnataka.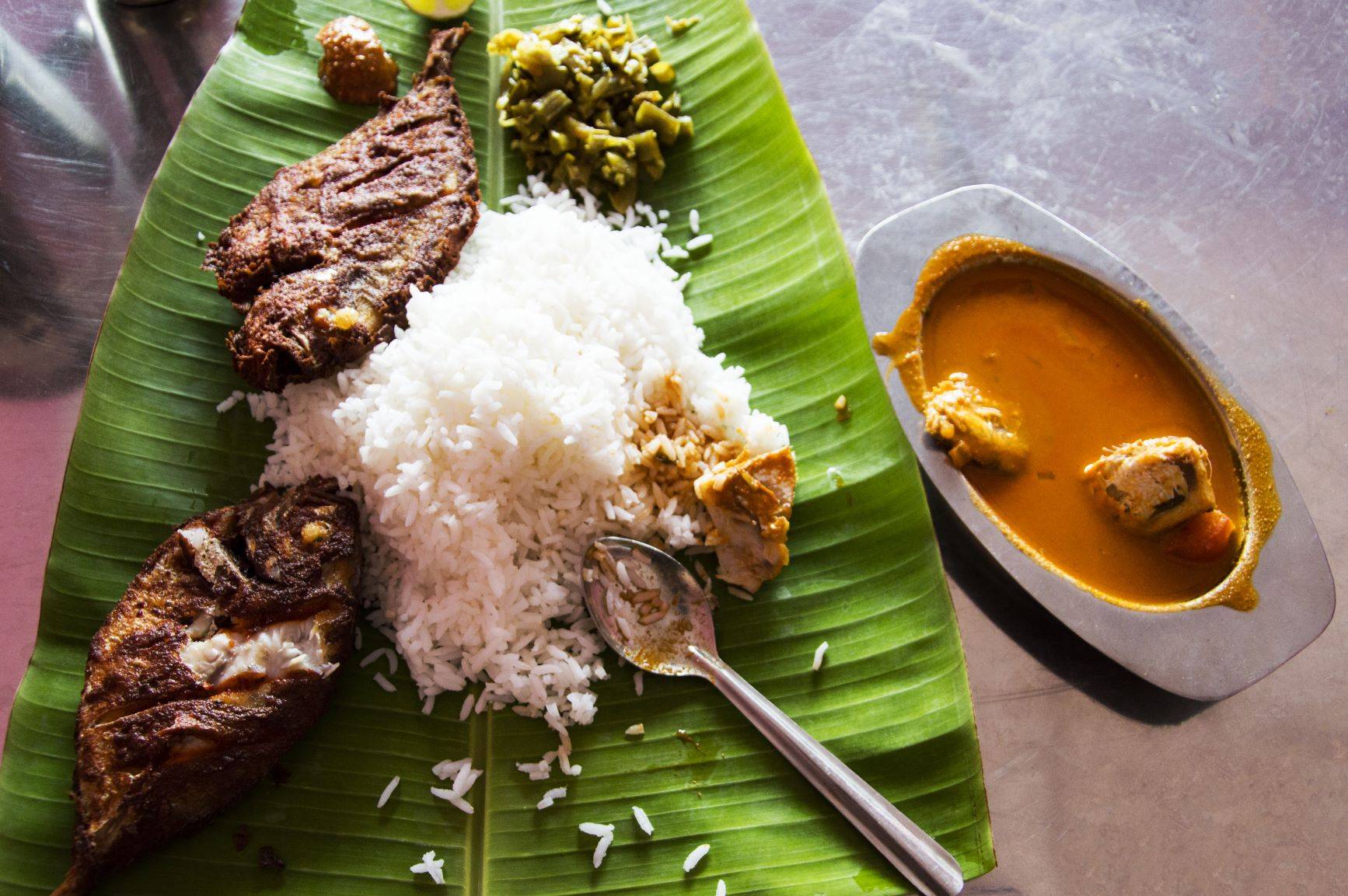 This is Rava Idli, which is famous in Bangalore. It was created in one of the famous old breakfast places called MTR.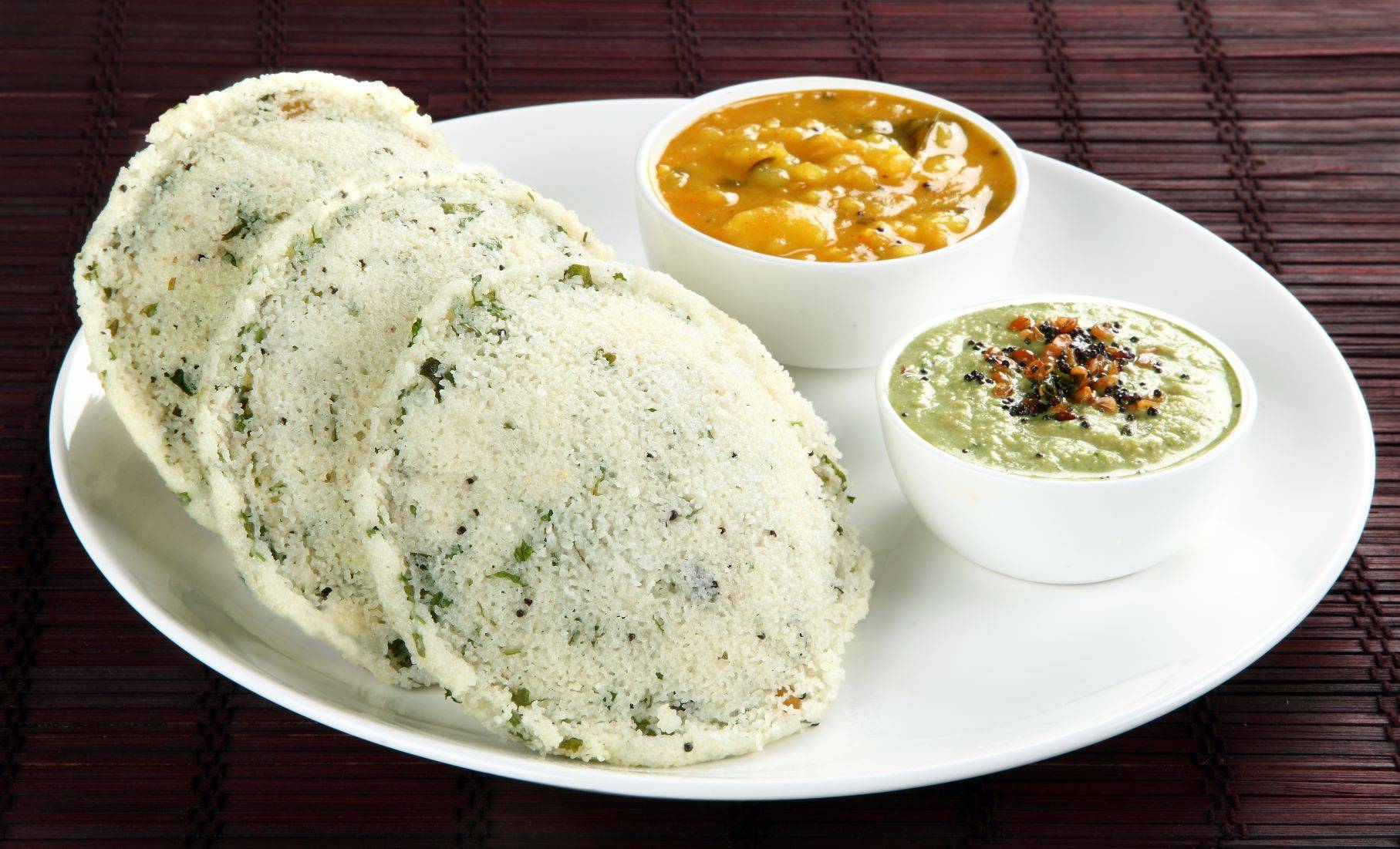 And my favourite dish of all, biryani. I decided my husband was the one when he brought me biryani home from a business trip to Vijaywada.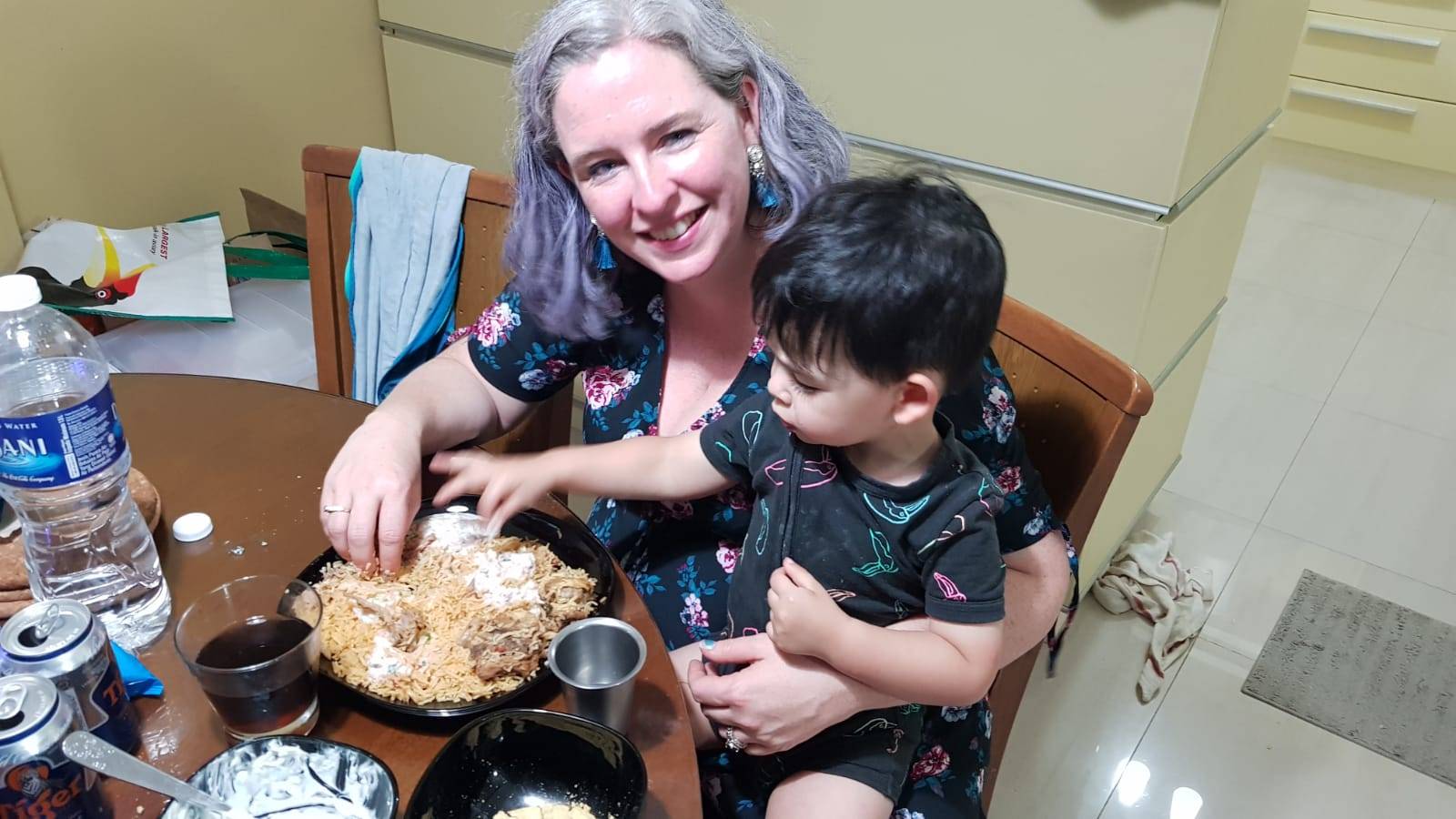 There's a whole story behind this picture, which you can hear about here if you're interested.


India is unbelievably diverse and beautiful.
India is diverse in just about every way imaginable. Weather, food, language, religion. India is really like a bunch of different countries in one. Amazingly, even within one state there are different languages, food, culture and dress. Karnataka, where I lived for 6 years, has the region Coorg which is known for its pork curry (Pandhi curry), and the way they wear their sari's with the pallu in front, as well as coffee plantations and many other things.

This is Snow in Ladakh, near the border of China in the far north of India. It didn't really occur to me that there's snow in Ladakh when you think of India and the associated heat! But of course the Himalayas are in India, so there's lots of snow if you look in the right places.
I think i was cold in this pic!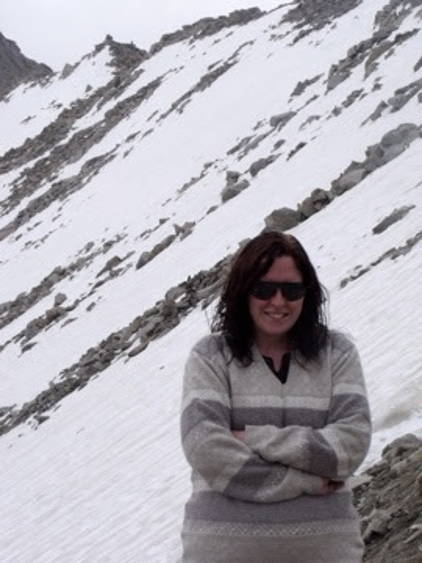 This picture is taken in the Nubra Valley in Ladakh, I can't believe I took this pic to be honest! It's so amazing, I wish I had a better camera at the time. I guess I need to go back and capture more!

Mountains and Lakes that remind me of Switzerland in Srinagar.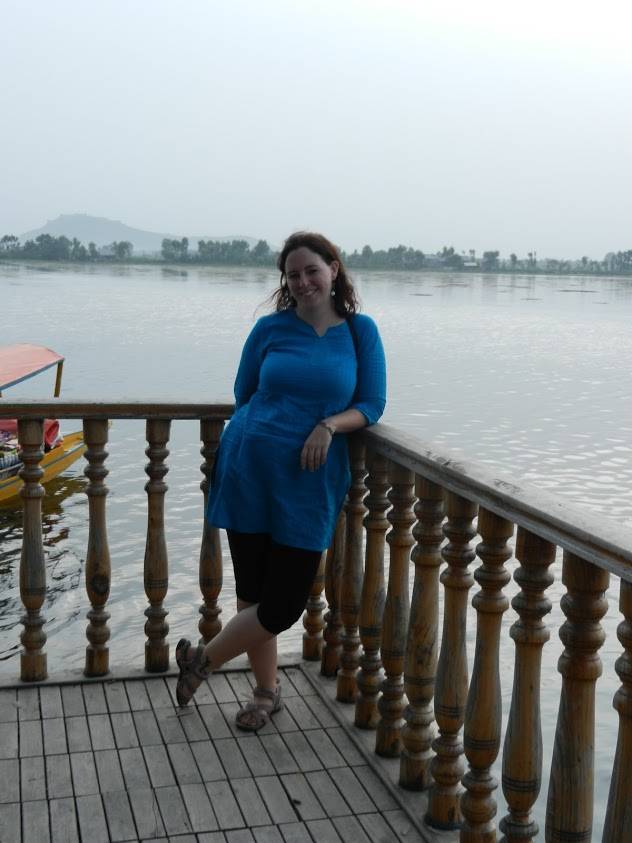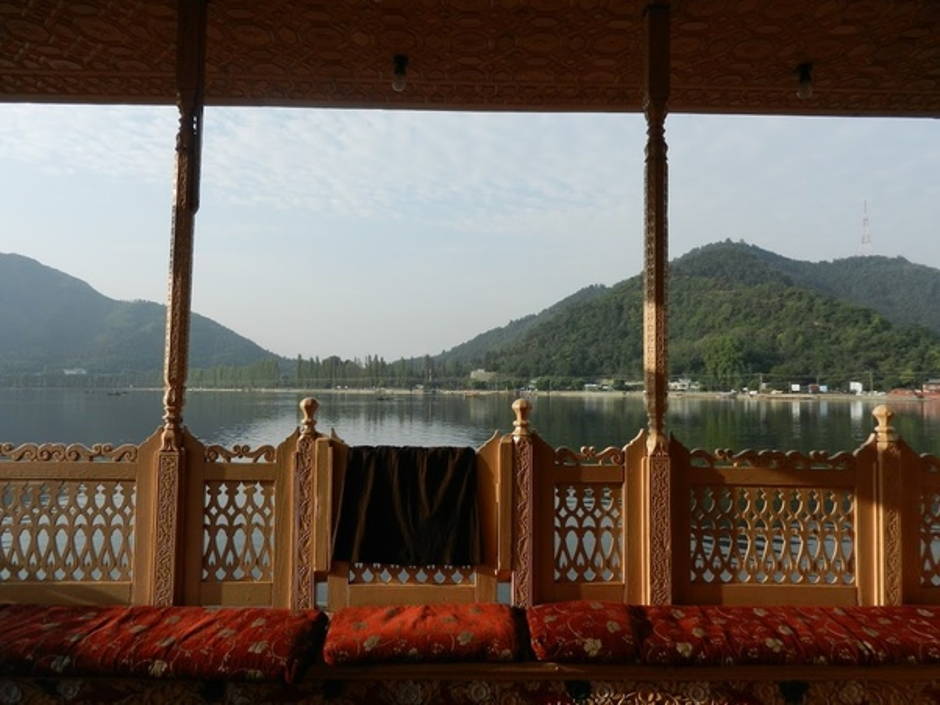 Backwaters and Rice Boats in Alleppey. This is a Kerala houseboat, a much different style to the ones in Srinagar. They will stop and buy freshwater prawns and cook them for you right there on the boat.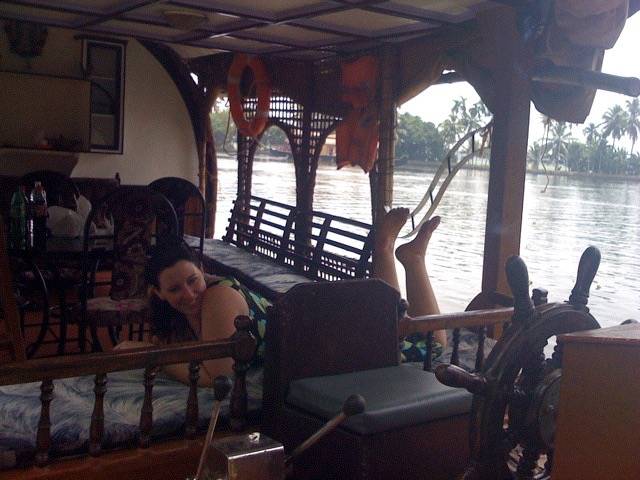 This is a wild lion tailed macaque in the Western Ghats near Agumbe in Karnataka.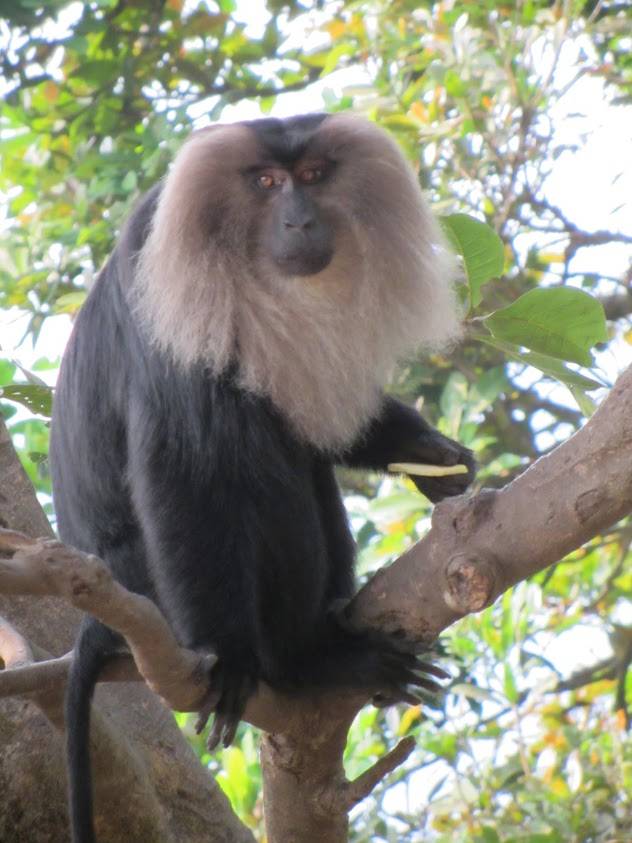 The Western Ghats in Karnataka, this was taken close to the lion tailed macaque pic above. This is taken from Wikipedia
"The Western Ghats, also known as Sahyadri (Benevolent Mountains), are a mountain range that covers an area of 140,000 square kilometres (54,000 sq mi) in a stretch of 1,600 kilometres (990 mi) parallel to the western coast of the Indian peninsula, traversing the states of Kerala, Tamil Nadu, Karnataka, Goa, Maharashtra and Gujarat.[1] It is a UNESCO World Heritage Site and is one of the eight "hottest hot-spots" of biological diversity in the world."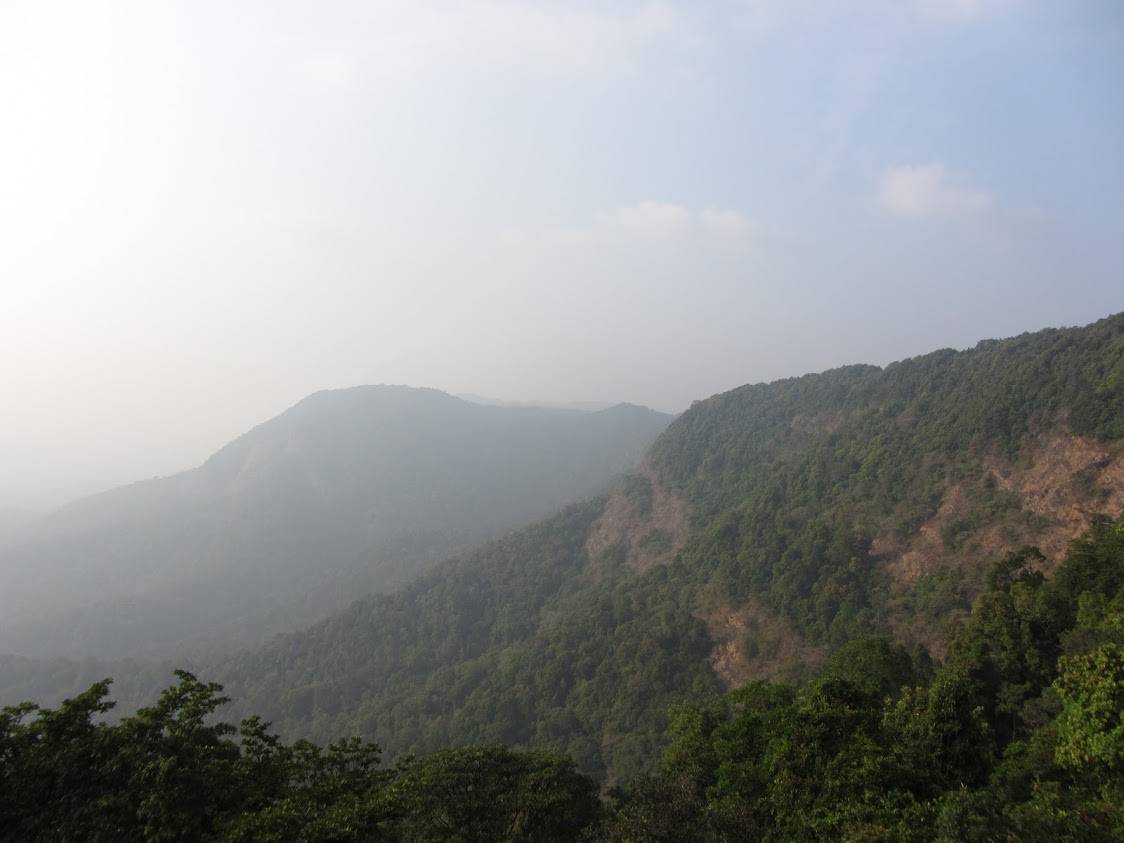 Hampi a UNESCO world heritage site,
This is a stone chariot in Hampi.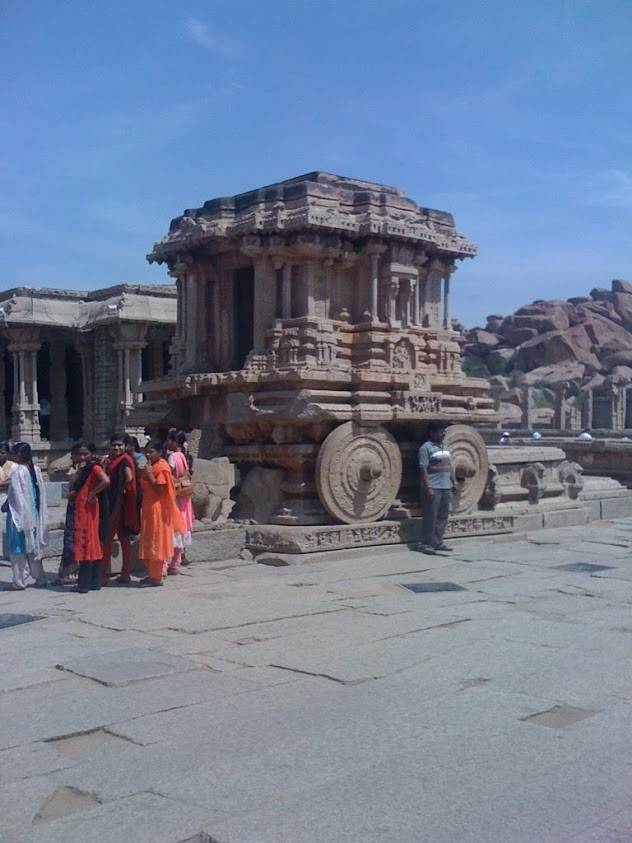 This is one of the ruins, I LOVE this photo of the horse and foal, it's such a magical place to visit. I"m generally too impatient to take good photos, but I do think this one turned out pretty well.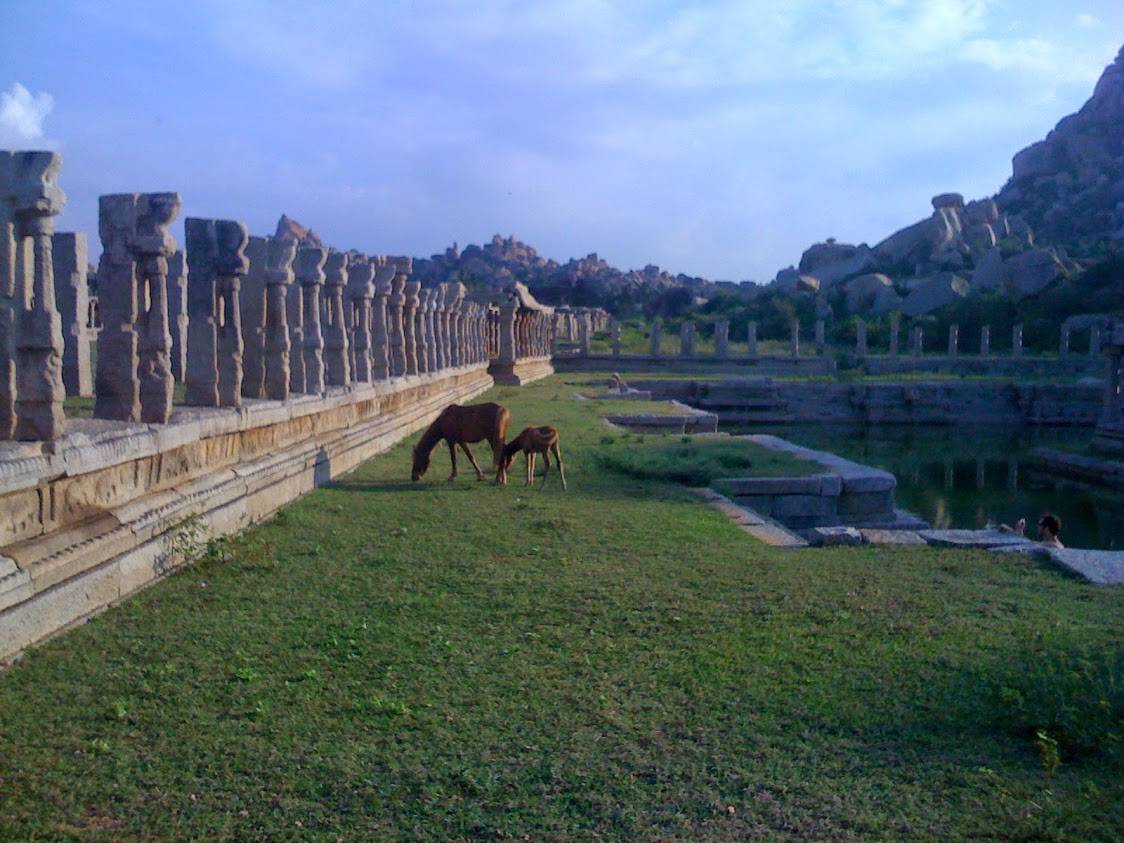 Pondicherry a former French Colony with French Food (including croissants as you can see in my hand), French Mass and cobblestone streets.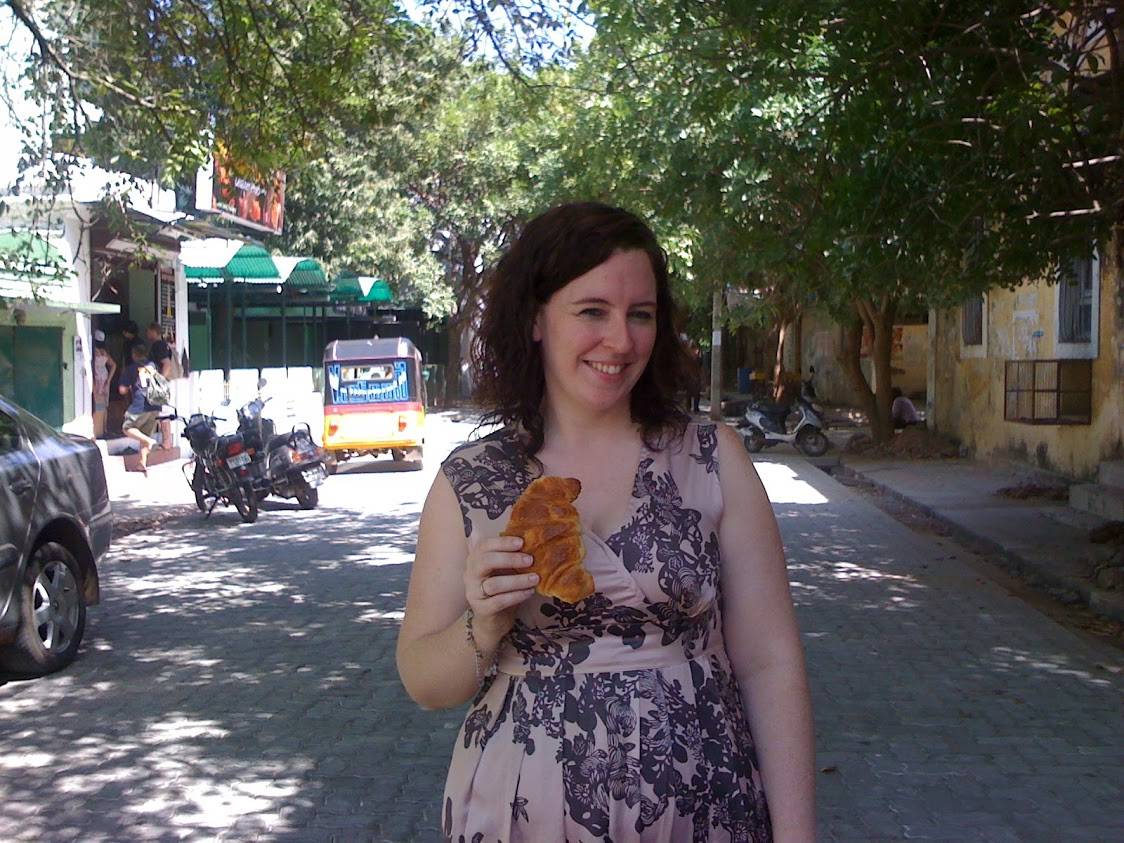 Goa is a former Portuguese colony with beautiful scenery, architecture, churches and amazing food (Vindaloo anyone?).

This is a little road in Goa, it's full of this sort of scenery.
This is a restaurant in Vagator in North Goa. Most of the restaurants in Goa are outdoors like this with thatched roofs.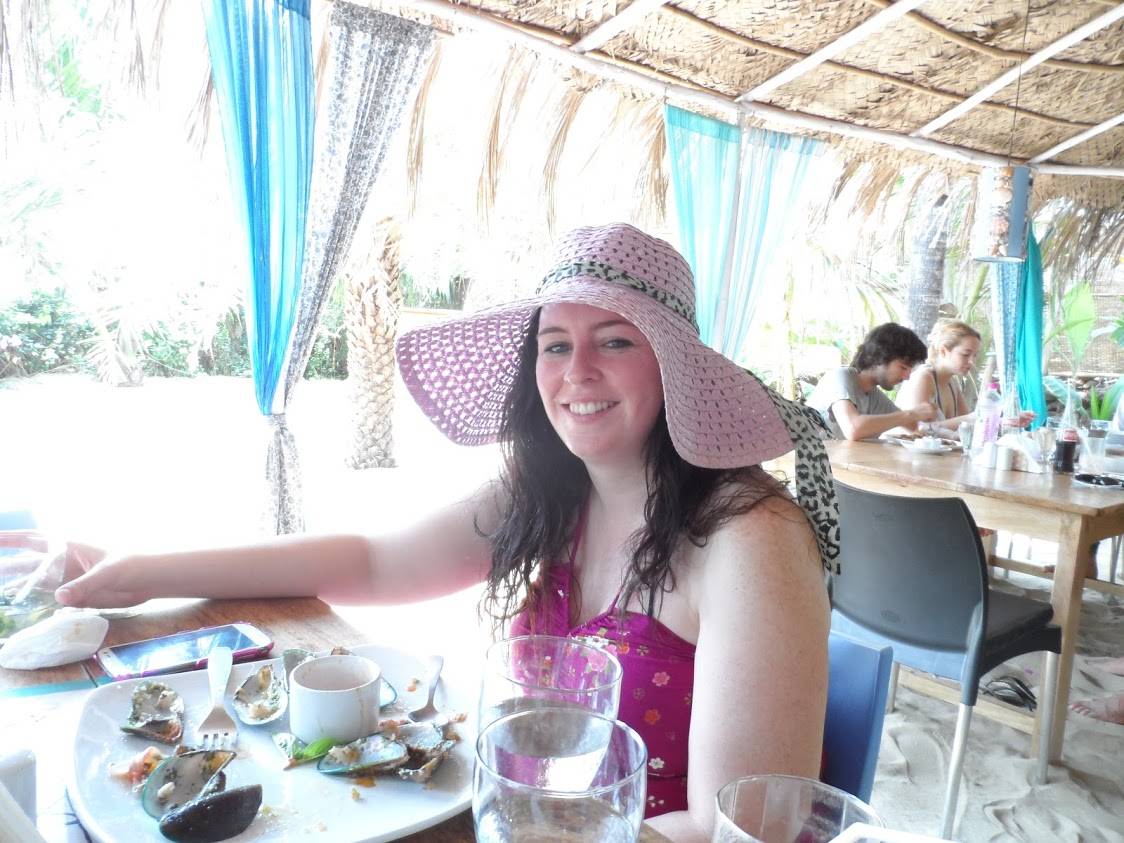 This is my husband eating a crazy amount of mud crab in Goa. There is fantastic fresh seafood all over Goa. I recommend asking the restaurant what's the best so you get the freshest options.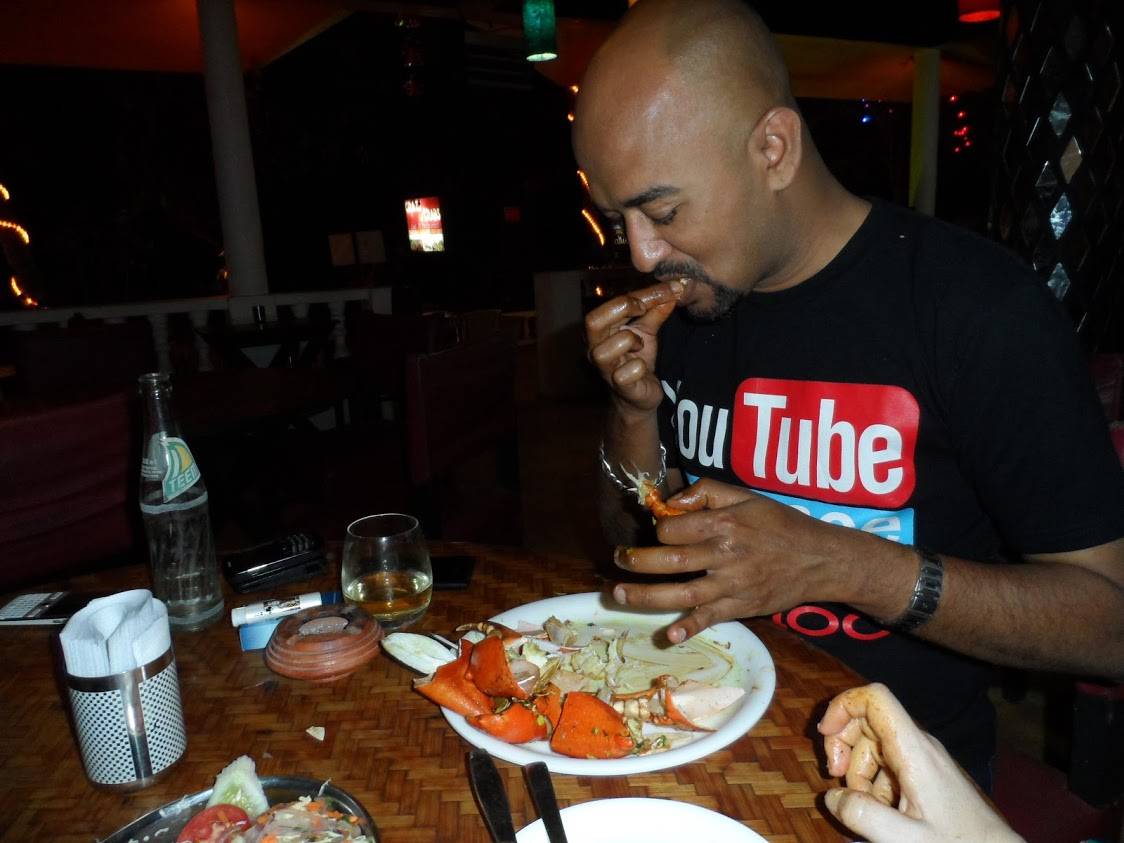 This is Lalith Mahal Palace in Mysore, it used to be the Viceroys residence, and now you can stay in there as a heritage hotel. Imagine having breakfast in the ballroom!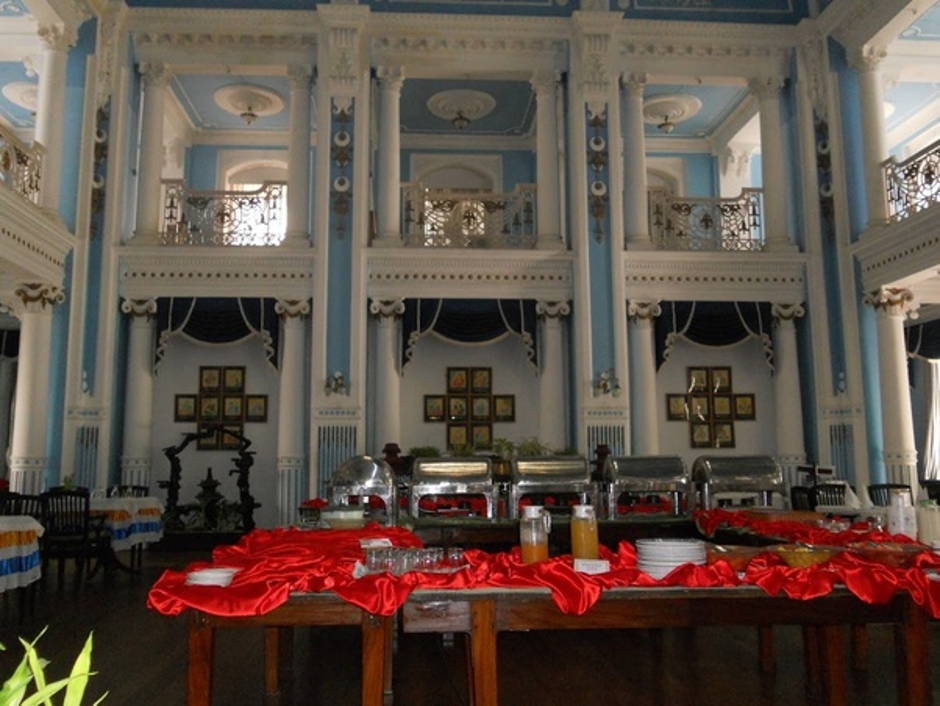 Mysore Palace where the Maharaja lives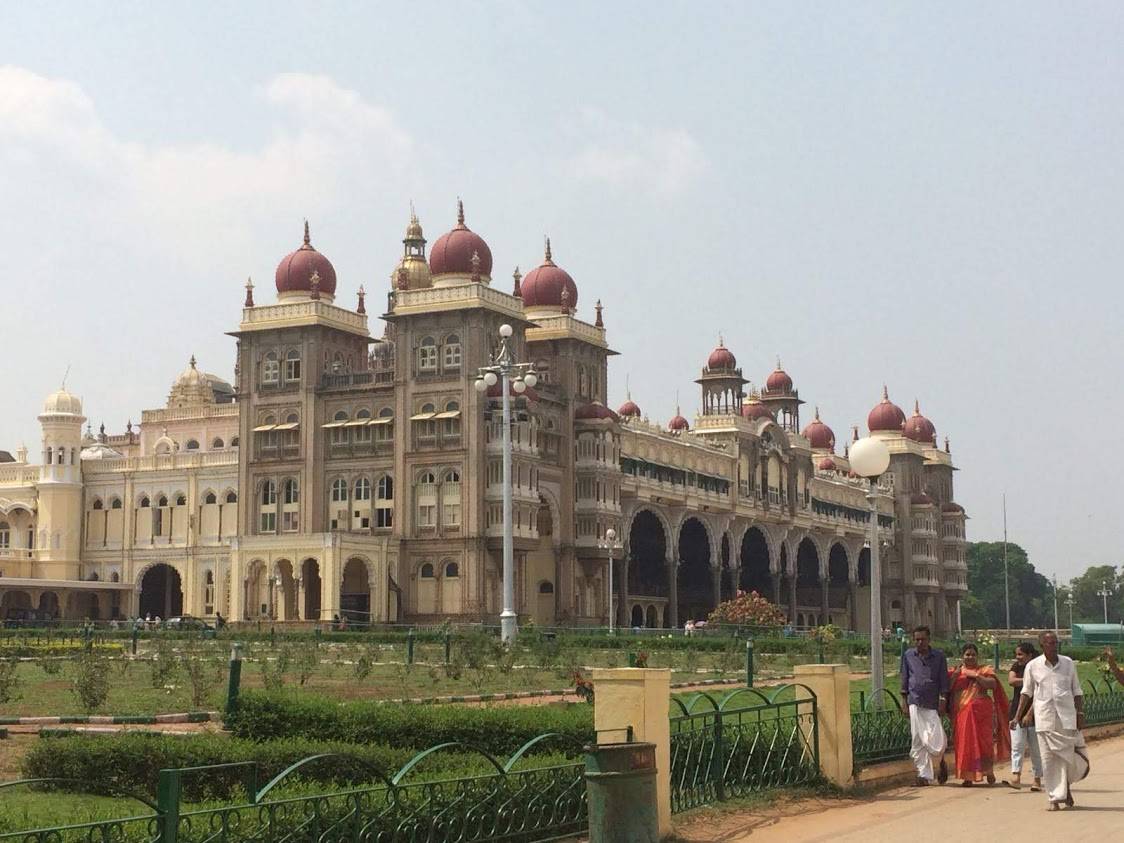 This is inside Mysore Palace. My friends visited with me recently and they thought it was more impressive than the Taj Mahal which they visited a week earlier.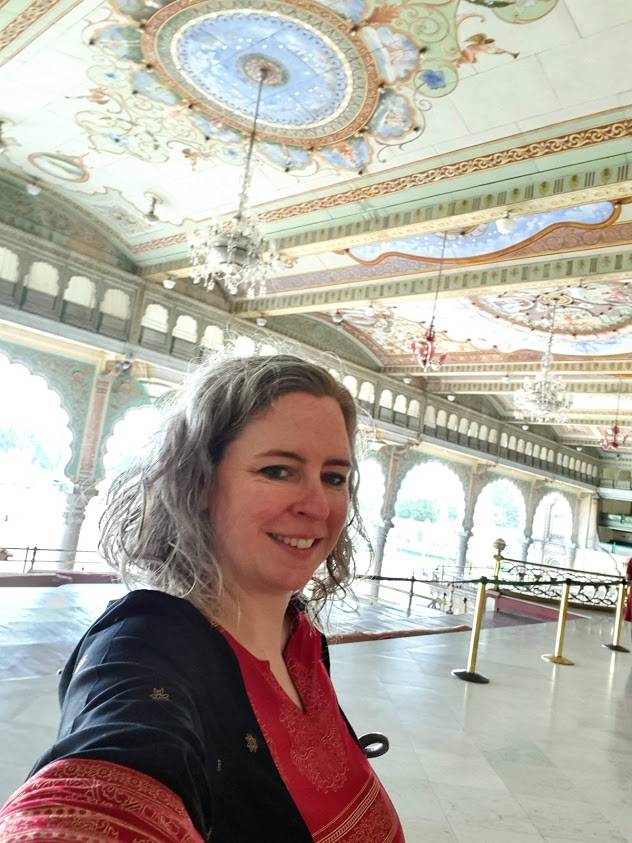 Nagarhole jungle where you can see leopards, tigers, elephants, lots of deer species, birds and tons of other wildlife.

Here is a spotted deer with a langur in the foreground.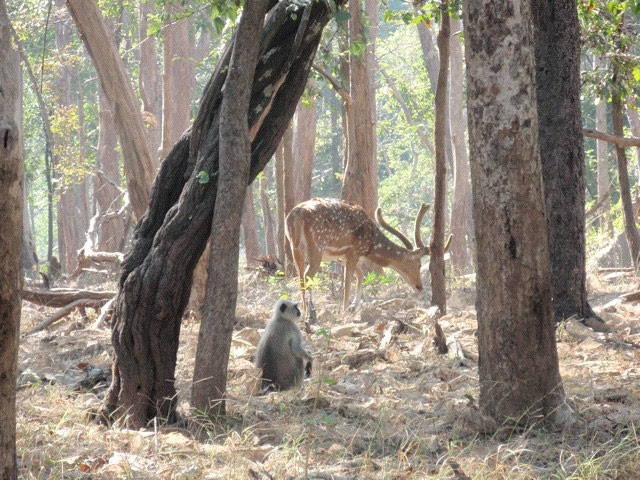 This photo was taken with my phone camera years ago, so it's not great quality, but you can clearly see a leopard in a tree. This was very cool to see, you sure are in the jungle when you come across a wild leopard!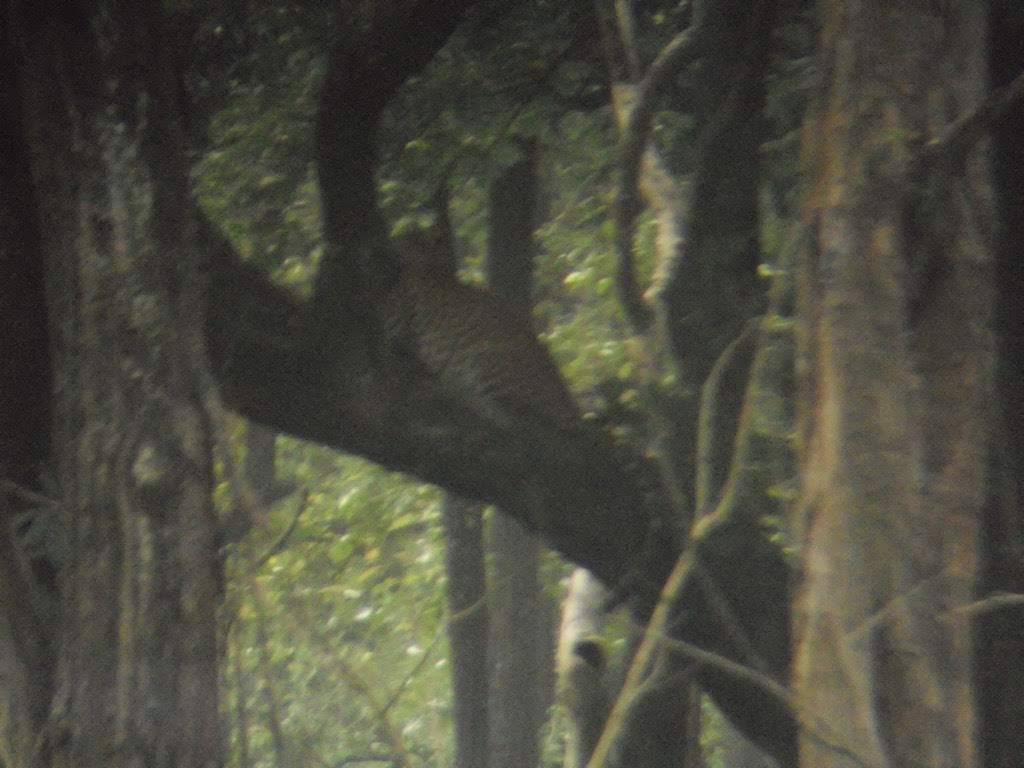 This is an Asian elephant in the jungle in Nagarhole. There are lots of Elephants, you'll definitely see some from your jeep if you go on a safari in Nagarhole. You can organise this through Jungle Lodges which is the government run resort. http://www.junglelodges.com/kabini-river-lodge/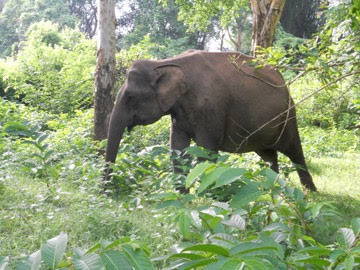 Another area where you can do Safari's in Karnataka is called Bandipur. There are several resorts around there, I this one I stayed in a tree house, which was fully equipped with a toilet and shower.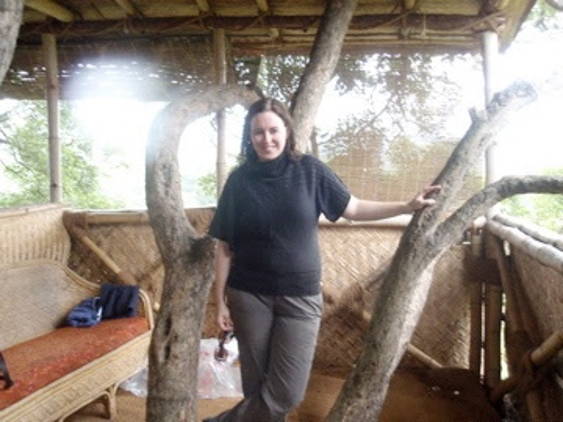 This is Marari Beach in Kerala. It's like a private beach, there's hardly anyone there apart from a few fishermen. This was taken from the verandah of the house I was staying in, so you are very close to the water, and you walk out onto the sand.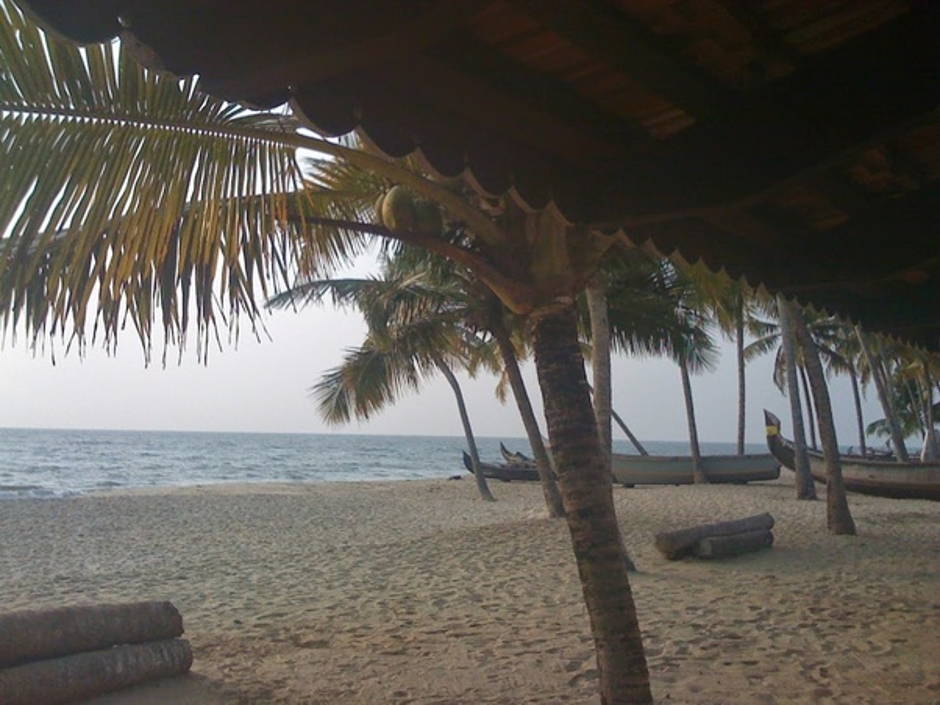 This is the beach outside a resort in Mahabalipuram in Tamil Nadu, a couple of hours drive from Chennai.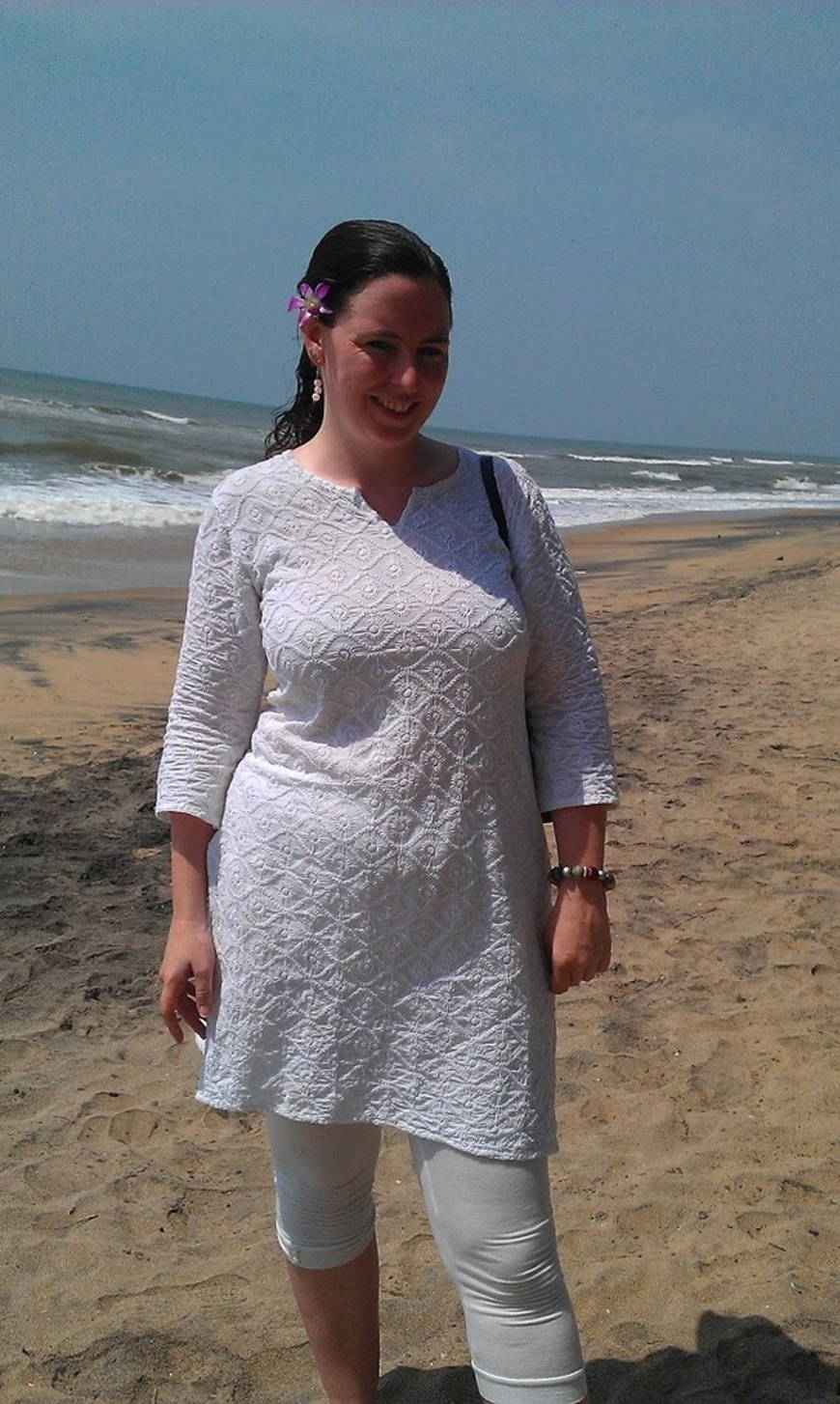 This is close to the beach above, these are monuments dating back to the 7th and 9th century that have been restored. It's a UNESCO world heritage site.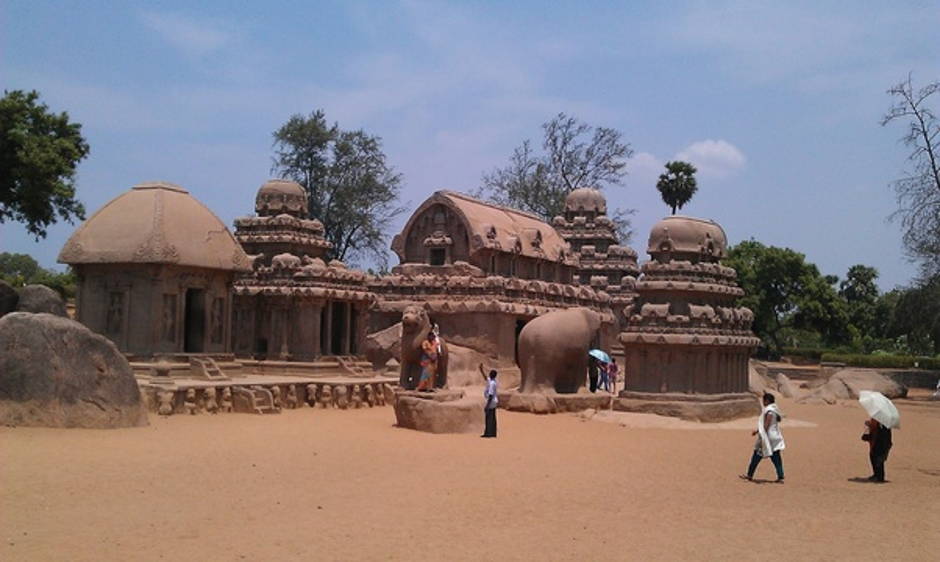 This is a hill station called Ooty or Ootacamund. Ooty is famous for tea plantations. They used to come to various hill stations to escape the heat during the hottest months in India. Some other hill stations in the south are Kodaikanal and Munnar.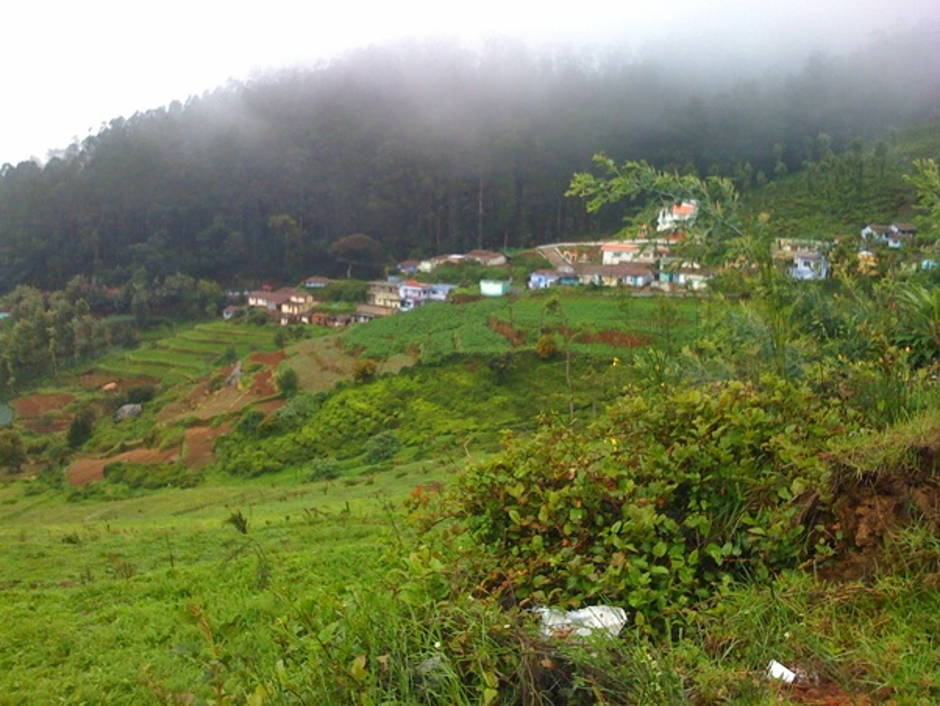 There are also several heritage hotels you can stay in in Ooty that were built by the English.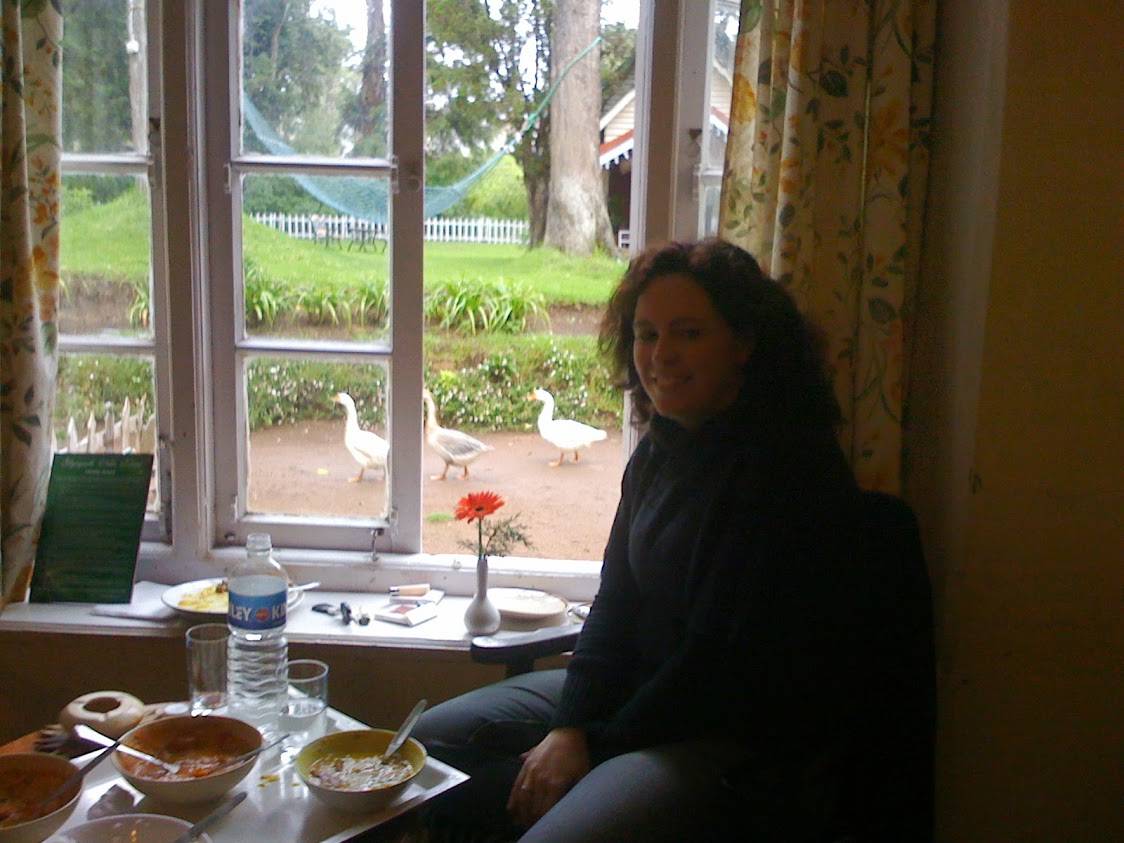 It's also easy to travel in India because people are friendly. If you catch a train, people will share their food and chat with you. You'll feel like you're on a family holiday.



Having kids with you is (anywhere) is no problem
Living in Melbourne, I often feel guilty that I have my kids with me. They are too noisy or move around too much on the train, in a cafe, basically anywhere in public.
In India I don't feel like this, people really love kids. They love to interact with them, play with them and it's not only doing you a favour, they actually enjoy being with kids.
On the train when Scarlett was a toddler, several people in the train took her and played with her (within our view). She had so much fun, so did they, and it made our life so much easier.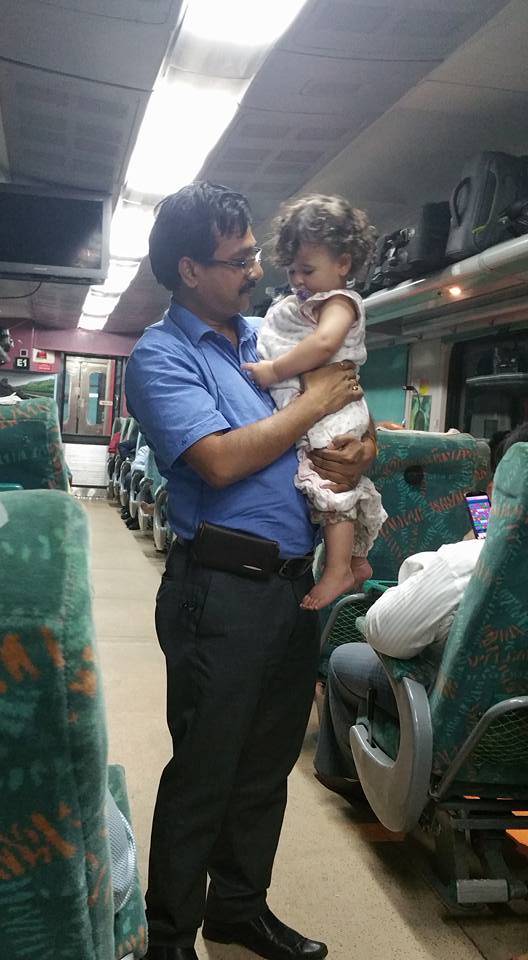 In a restaurant a waiter will take your child if they are crying and walk around a little, or take them for a walk to entertain them while you eat your food.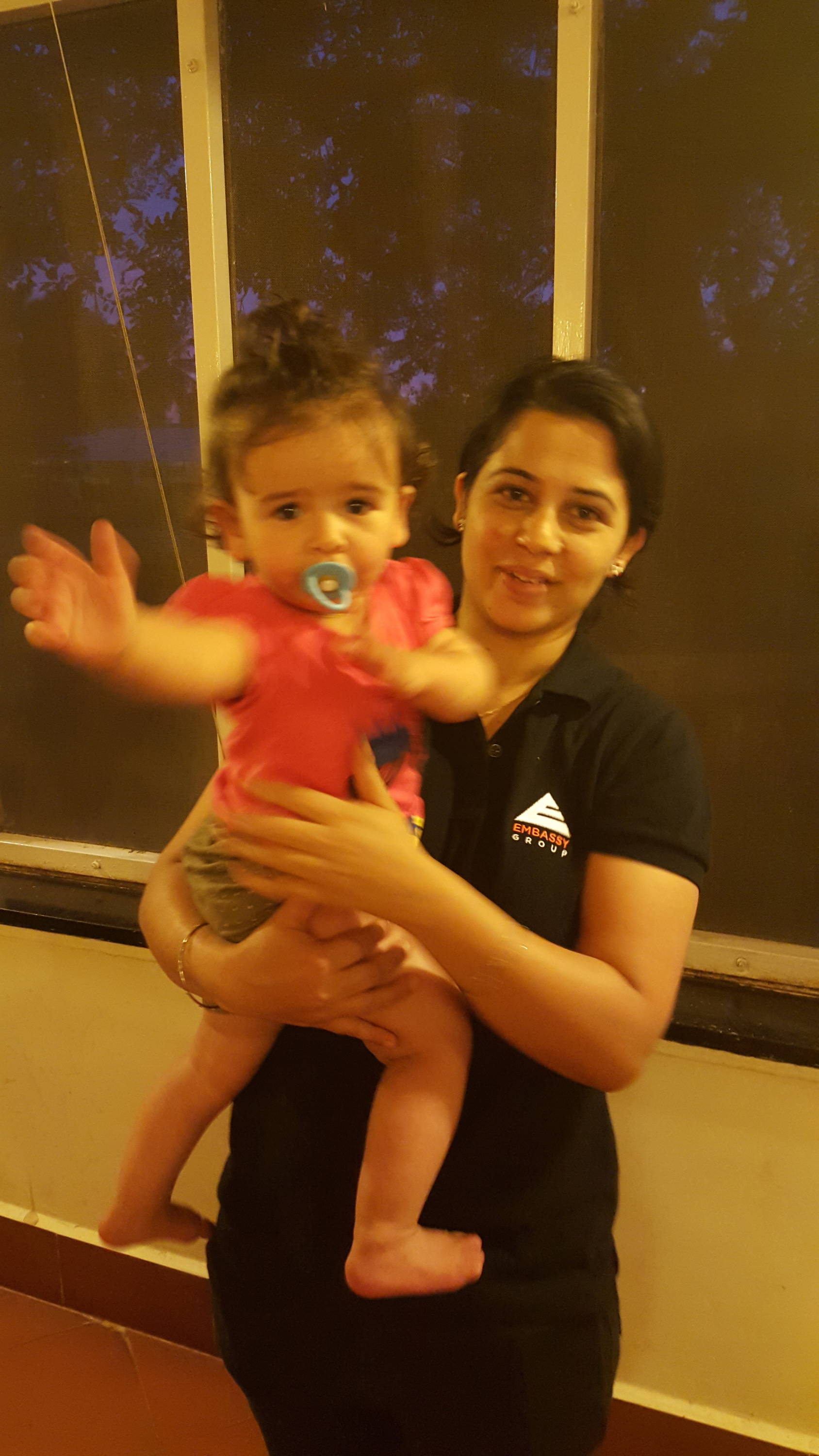 My friend insisted on helping me feed Joey at lunch in fact she hardly got to eat her own lunch, but she got so much pleasure from enjoying being with Joey.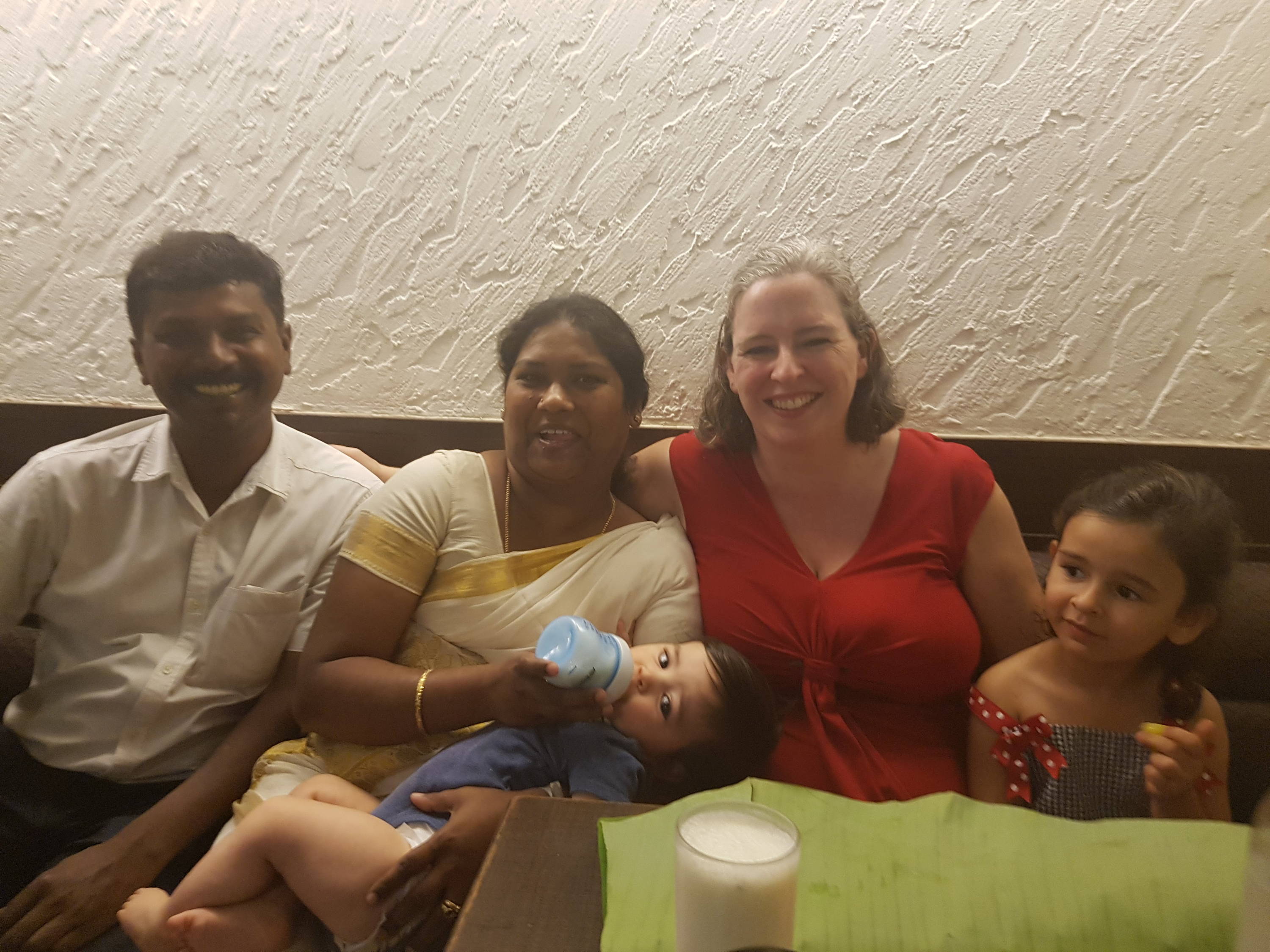 I don't even feel guilty in the bank with my kids in India, the tellers will talk to your kids and help you if they are restless.You certainly don't find that in Australia!



Indians are smart and very well educated
Of course this is a generalisation, there are Indian's who are not well educated. If I need to know something about business, science, research, literature, law or history I have Indian friends that I would ask about any of these things before any westerner I know. I know three people who have published books, and all of them are in India!

There is always stuff going on and people share their cultures, Ramadan, Diwali, Onam, Holi are all fun to celebrate.
Holi is a festival where you throw coloured powder and water. I recommend women are a little careful and just go to private parties rather than playing Holi on the street as men can take advantage of the opportunity to get close to women if not in a safe environment. It is otherwise a very fun festival, we used to play it at school on the oval. It's totally acceptable for the next few days to come to work with your hair or skin dyed bright pink from Holi colours.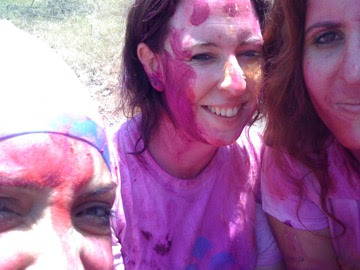 Diwali is the biggest festival in India, it's a bit like Christmas in the West. People buy new clothes, give gifts and celebrate with their families. Fireworks are available for anyone to purchase and set off, which has it's dangers and produces pollution, but I have to admit is a lot of fun for someone who's grown up in a country where fireworks are illegal (apart from organised shows at New Year and special occasions). Diwali goes for 4 or 5 days, and includes offering puja to Lakshmi, lighting lamps, decorating home and offices with lights, dressing in their best new clothes, parties with fireworks, food, sweets, dancing, and in some cases all night card games.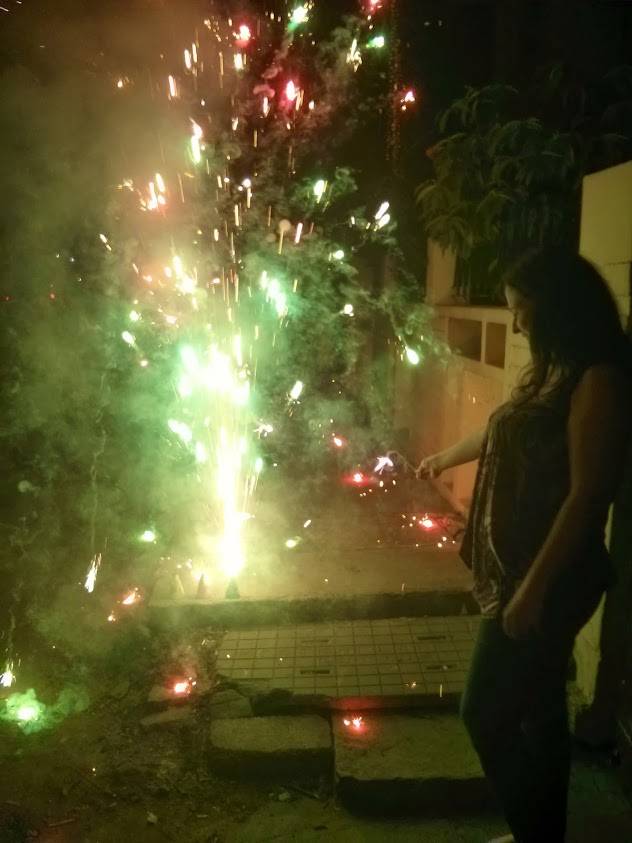 Ramadan is one of my favourite festivals. Muslims fast during the day and eat after the sun goes down. For the month of Ramadan there is a Muslim area in Bangalore that has street food on the road and there are specialties that you can only get at this time of the year.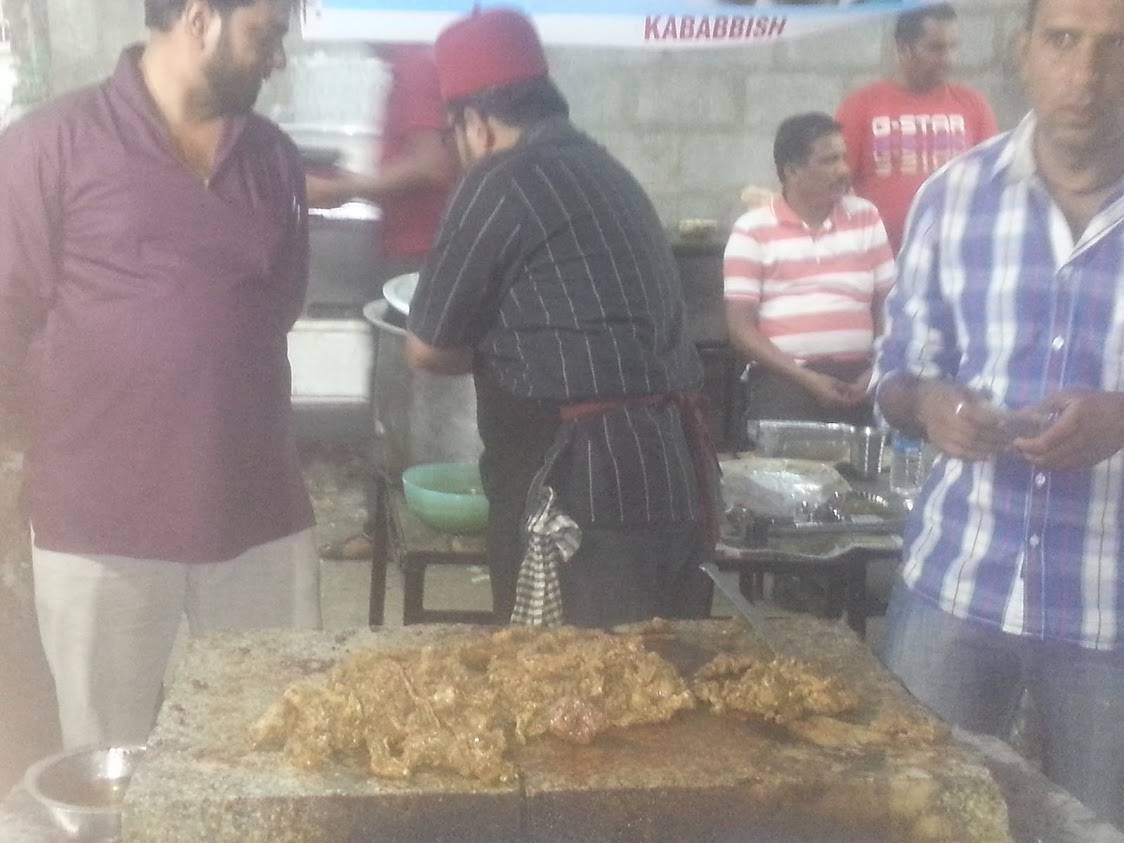 Malayali's (from Kerala) celebrate the harvest festival of Onam. They wear white traditional clothes and eat special meals on the day. Everyone is invited to celebrate.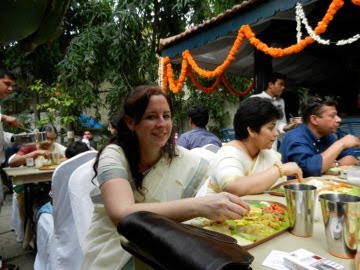 Soon after I moved to Bangalore it was Ganesha festival. Ganesha became my favourite Hindu god as there are so many interesting stories about him. During the Ganesha festival there is a lot of singing as dancing on the streets as people take huge Ganesha statues to water bodies to immerse them. You can imagine how much fun it was walking down the street and coming across these guys.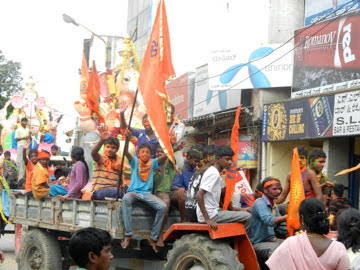 Vishwakarma Puja is a festival where people do puja for the items they use for example their cars, so you see decorated cars and lorries all over the place during this time. I always enjoyed seeing the decorated cars on the road, and got the priest to do puja for my car too.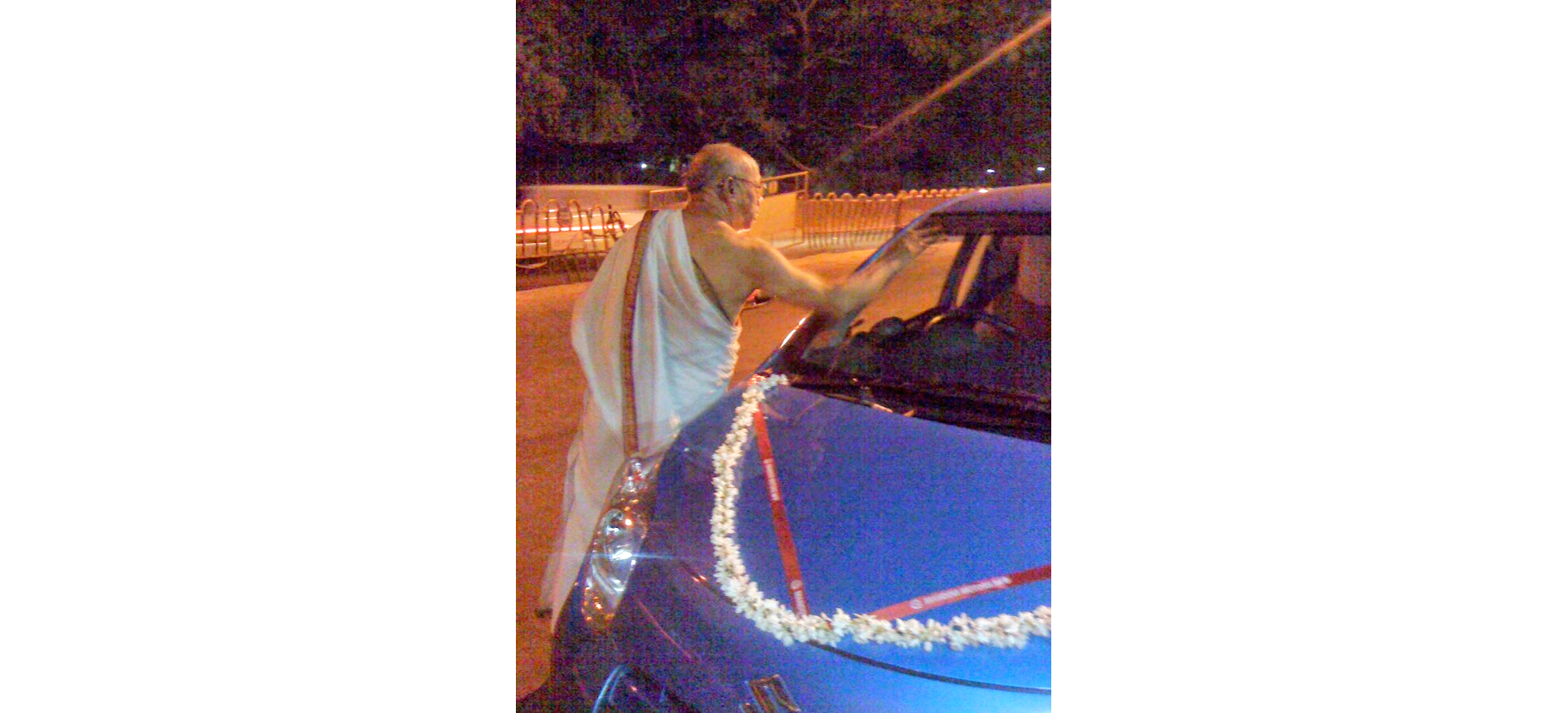 It's surprising - you never know what will happen, or what you will see next. I'm not sure quite how to explain this one, but the unexpected happens all the time.

You can see here that this guy is wearing a bird cage on his back while riding a motorbike. Not only that but if you look closely you can see that there is actually a bird in the cage.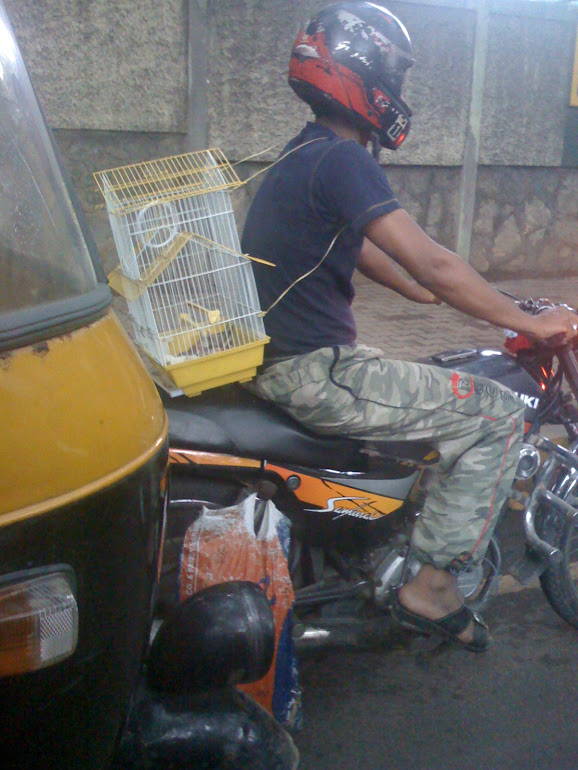 Here is a cow on the beach in Goa. I have been to Goa so many times now that a sight like this doesn't surpise me, but it sure did the first time I came! They love to eat watermelons which are sold on the beach.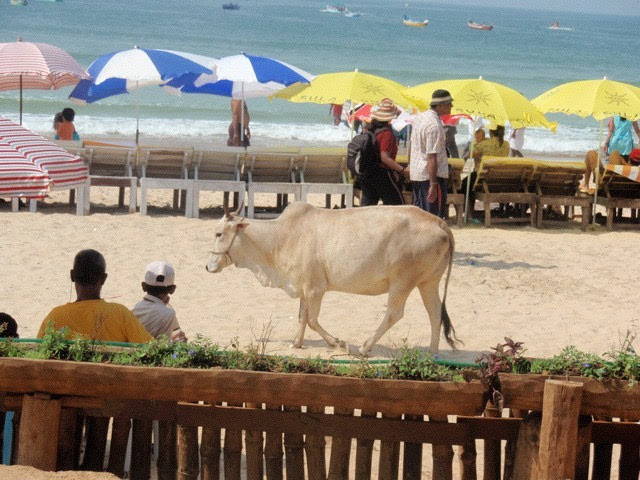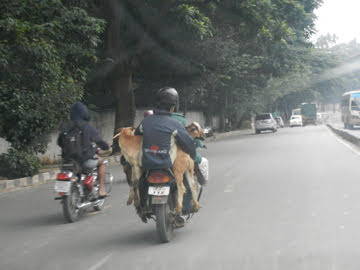 India is so colourful

From the colours of women dressed in sari's and salwar's, to painted temples, flowers, and Holi colours, India is so beautiful and bright.
This is a boat selling flowers in Srinagar. It was so beautiful we couldn't help but buy some flowers, even though we were leaving the next day.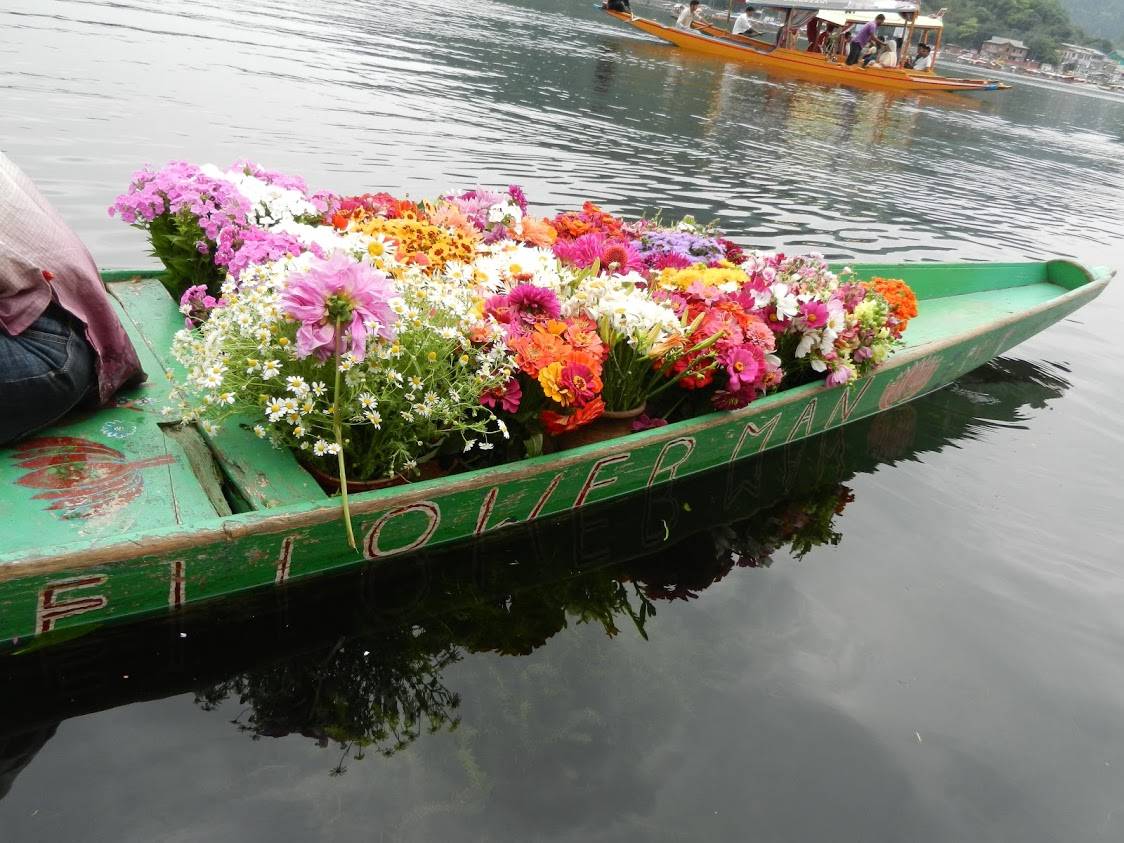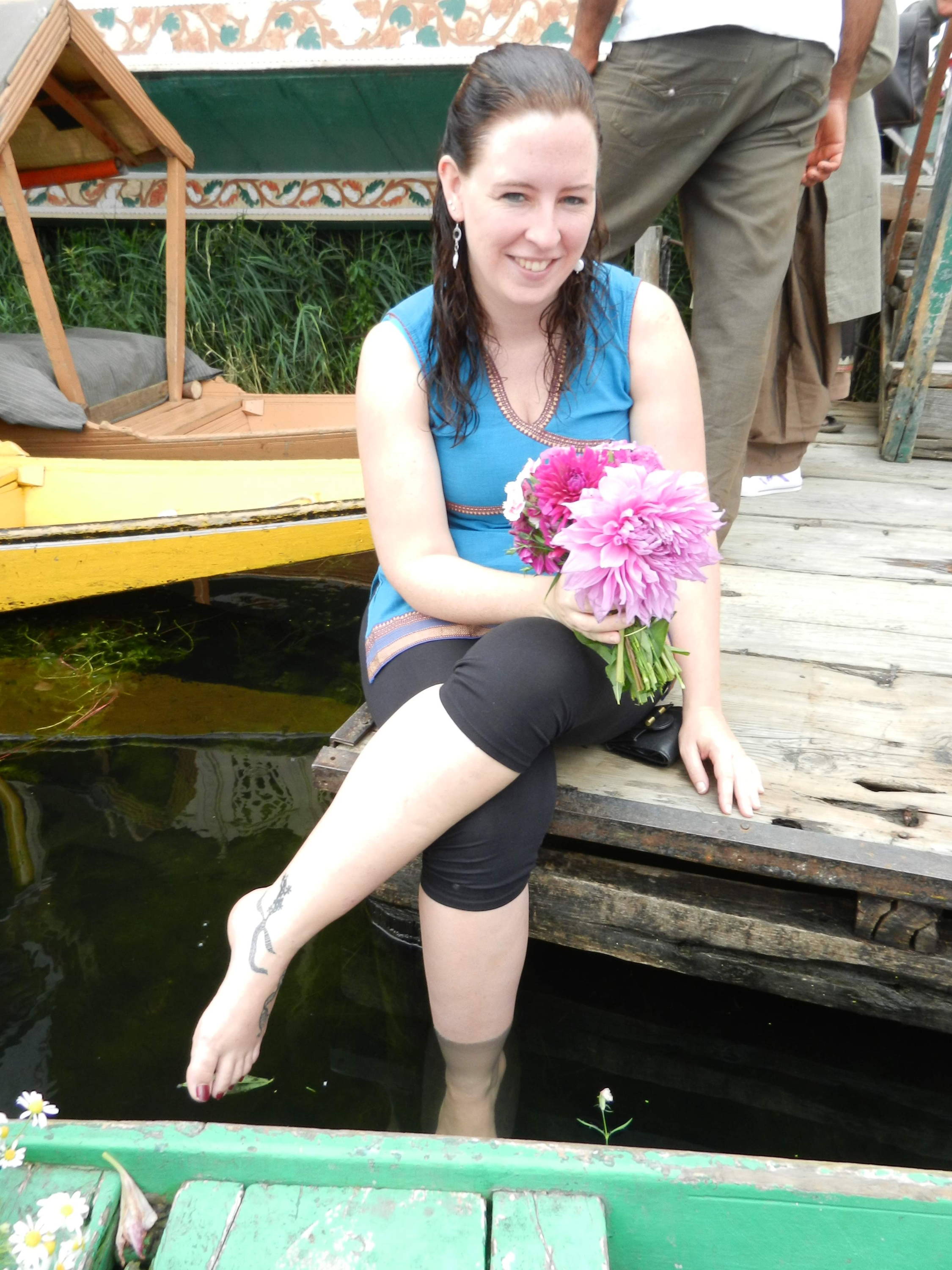 My friends' wedding in Bangalore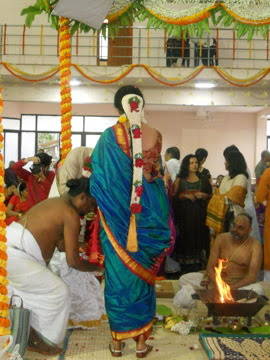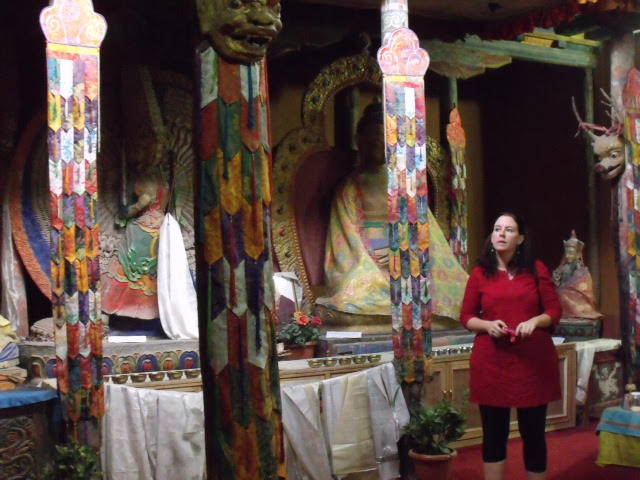 A Holi party in Bangalore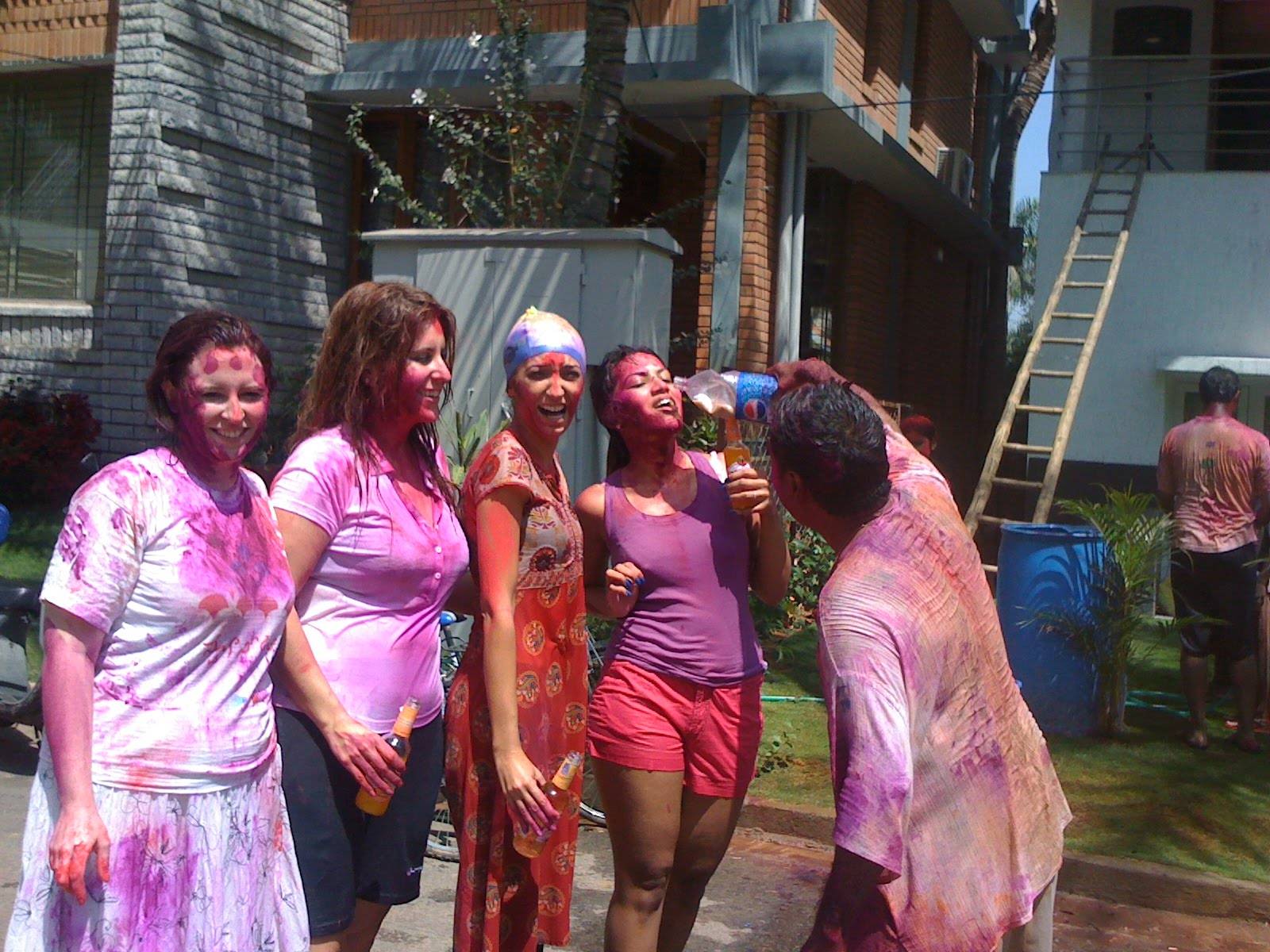 A muslim wedding I went to with my neighbour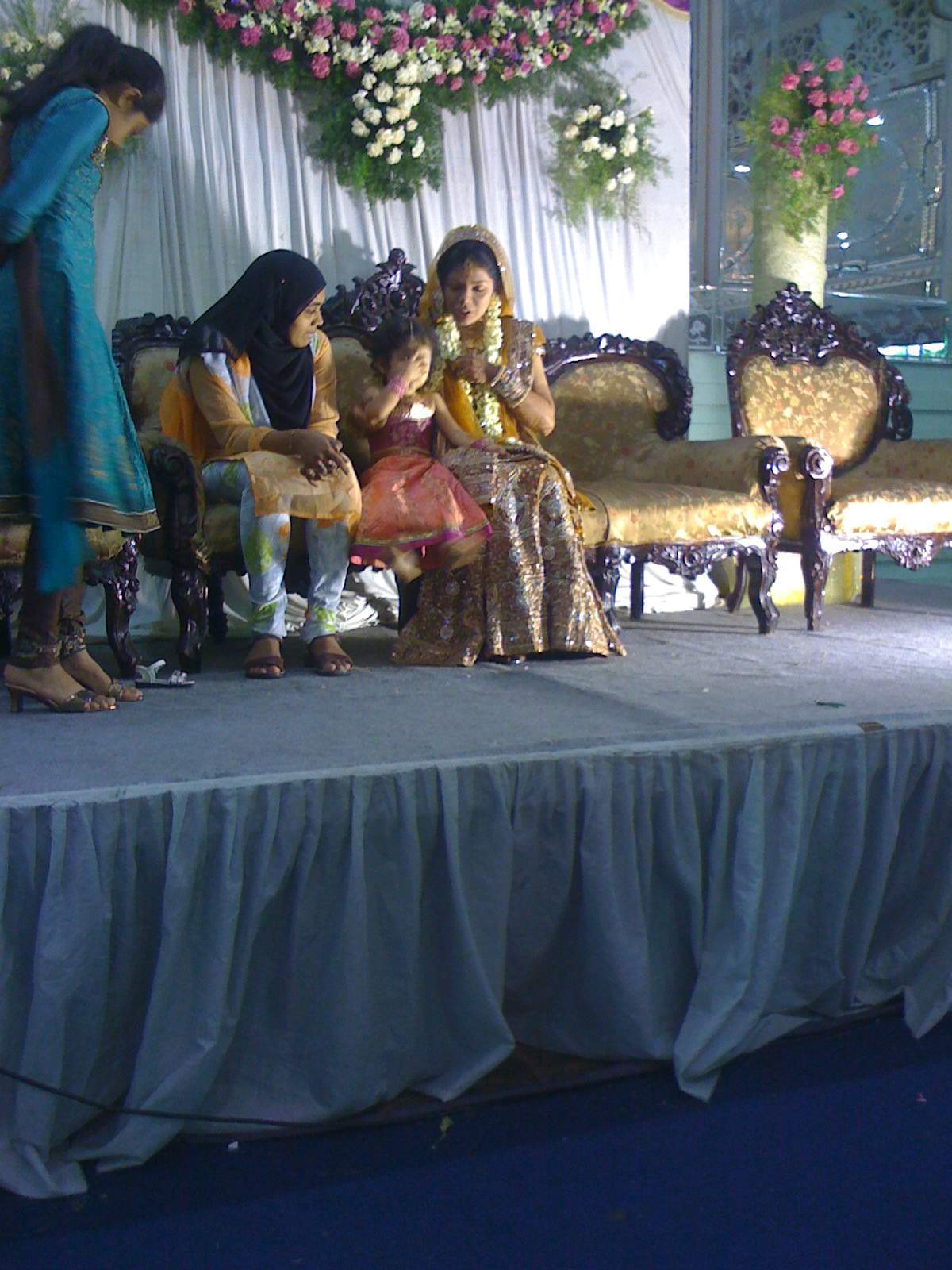 Sometimes it's just the scenery itself that is fantastically colourful. This is Pangong Lake in Ladakh. The colour of the water is quite unbelieveable even when you're seeing it with your own eyes.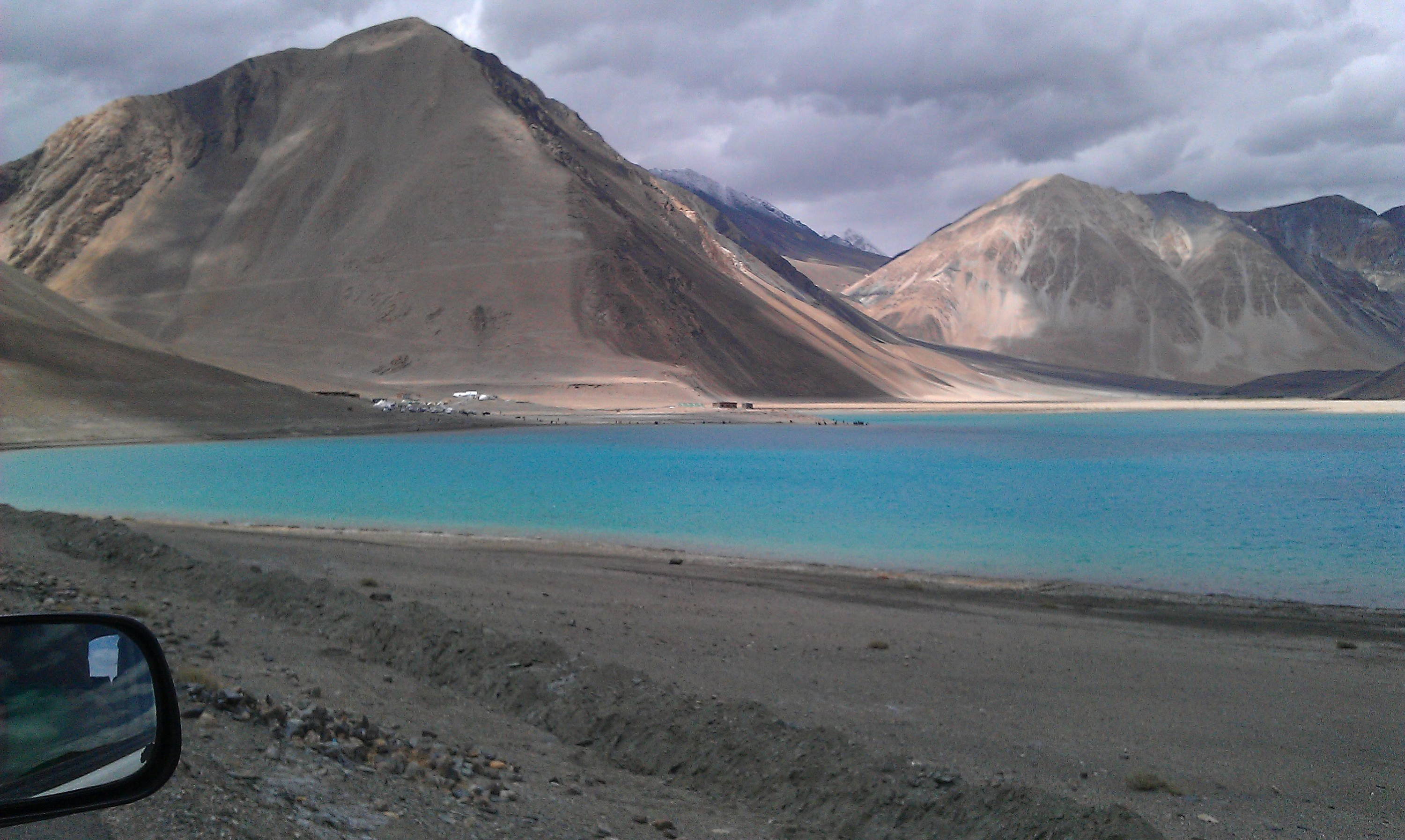 In Australia we think we have mangoes. In India there are more than 20 different varieties. There is a mango season where you can buy mango's off the side of the road and at mango market's and the smell and taste of them is just magic.

They even have festivals just dedicated to mangoes like this in in Lal Bagh in Bangalore.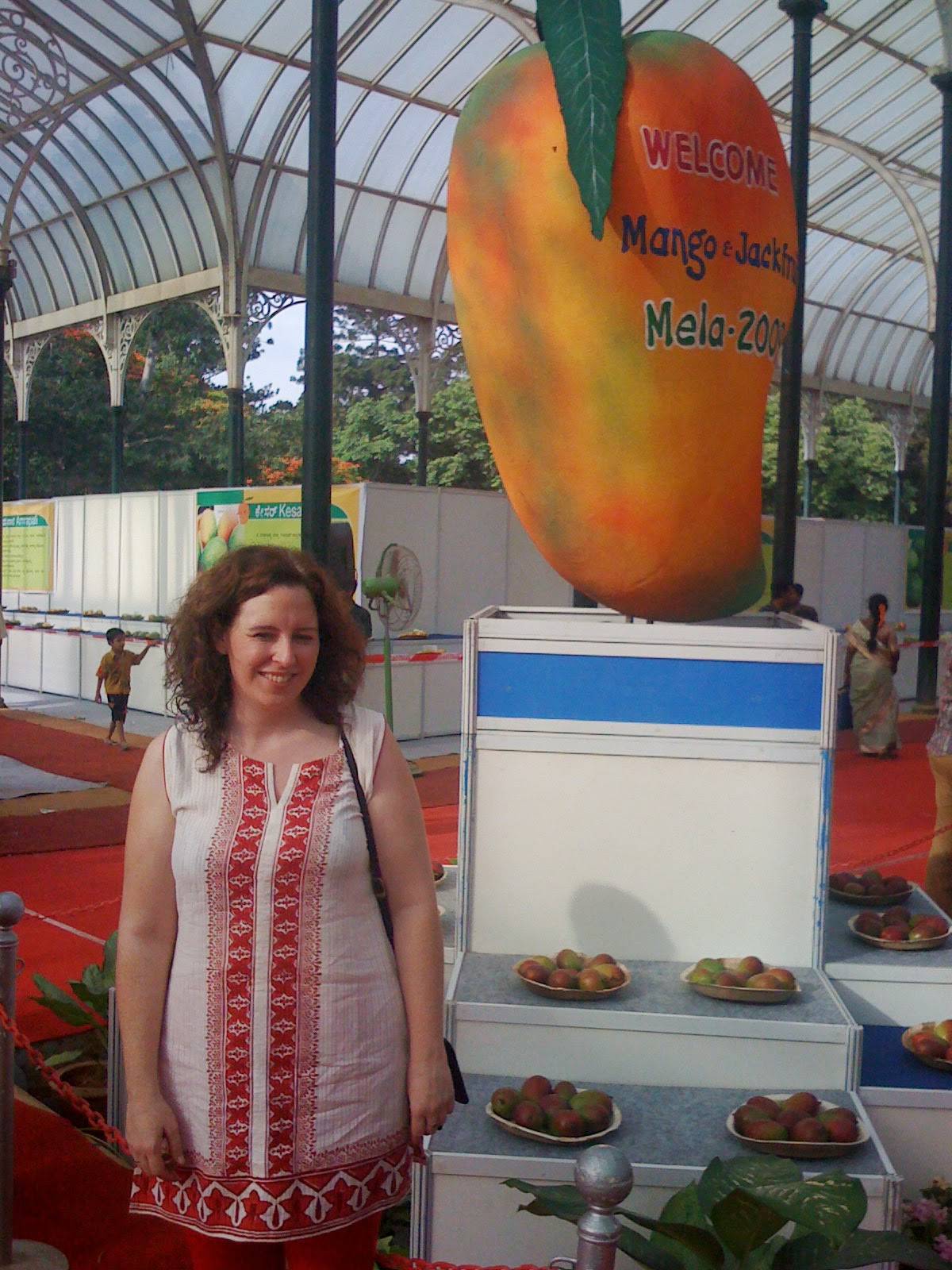 There is always tea or coffee nearby. I LOVE tea and coffee, especially if the weather is cold. Even at 3am you can find someone one the side of the road with a flask selling tea or coffee.

This is in Ooty on the roadside, it was very cold as you can see from my attire. This tea sure put a smile on my face!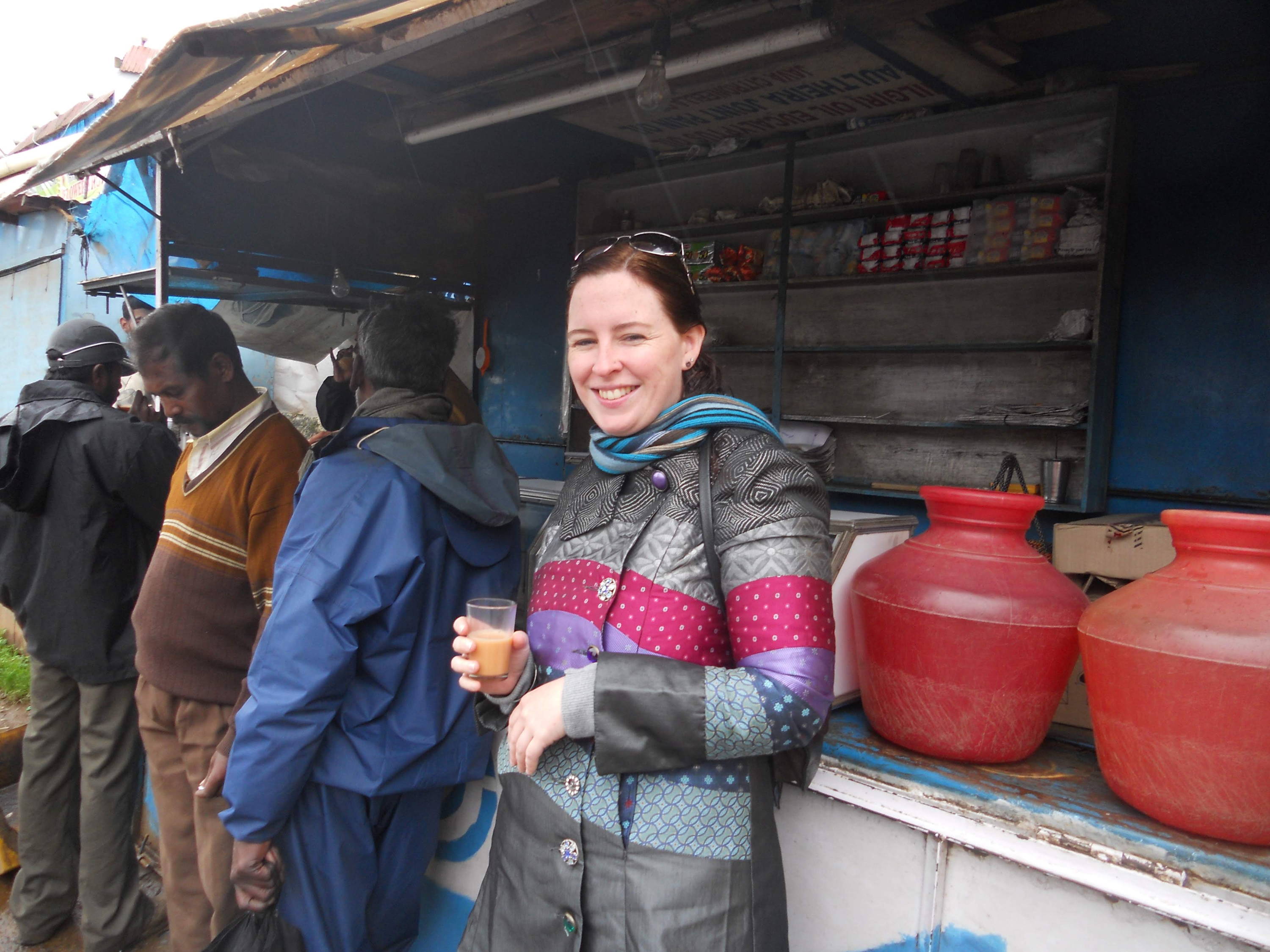 This is on the road side near Mysore. I love stopping off and having a snack and a coffee and maybe a chat with someone from the local area.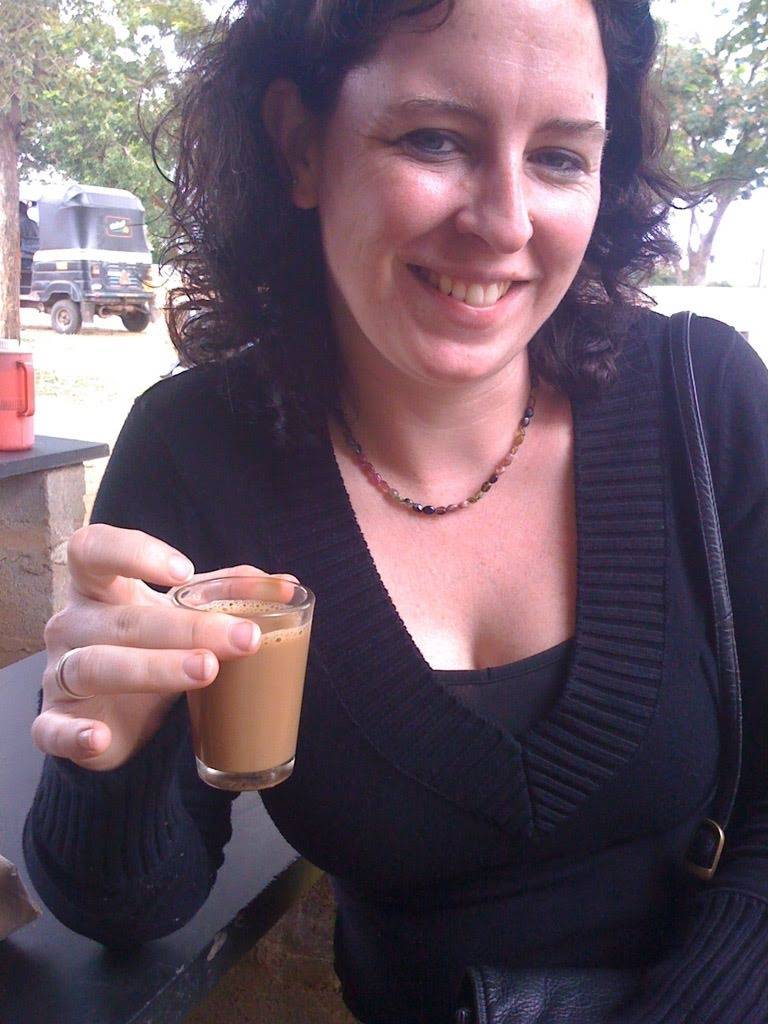 This is on the fast train between Chennai and Bangalore, before your meal comes you have a choice of tea or coffee.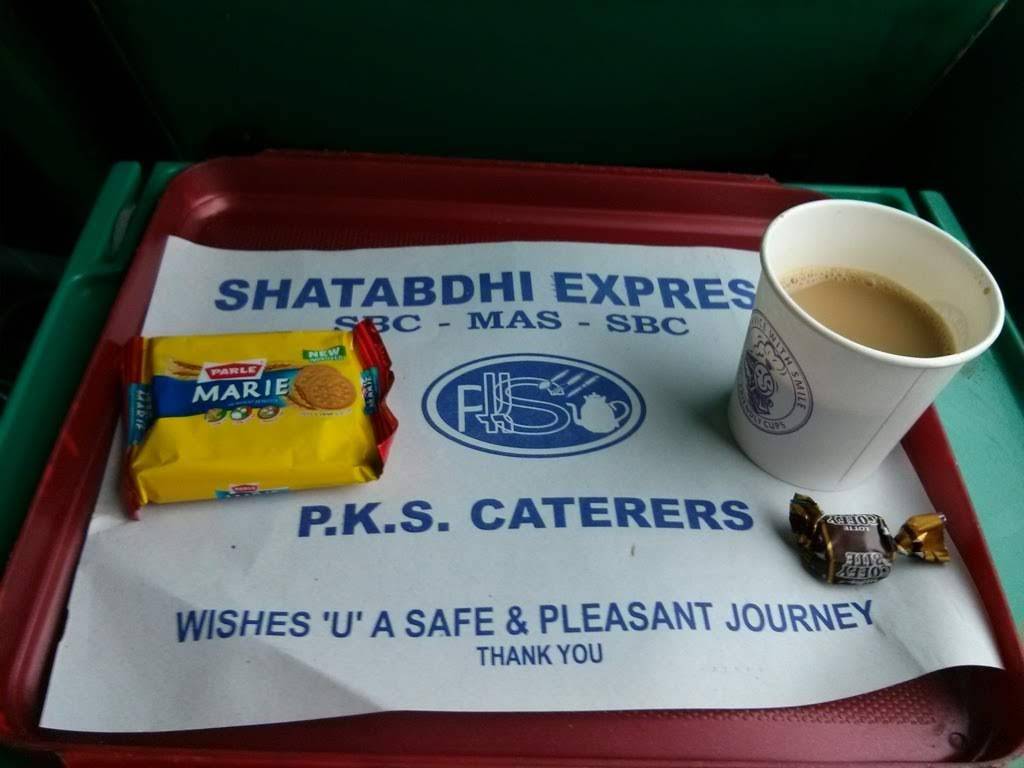 My husband and I love South Indian Coffee so much we visit our favourite coffee roasting place in Chennai whenever we visit and bright a stockpile of coffee home with us. This photo emcompasses a bit of everything I love about India. Friendly welcoming people who genuinely love kids and will invite you to share their time and love. And of course they supply the coffee!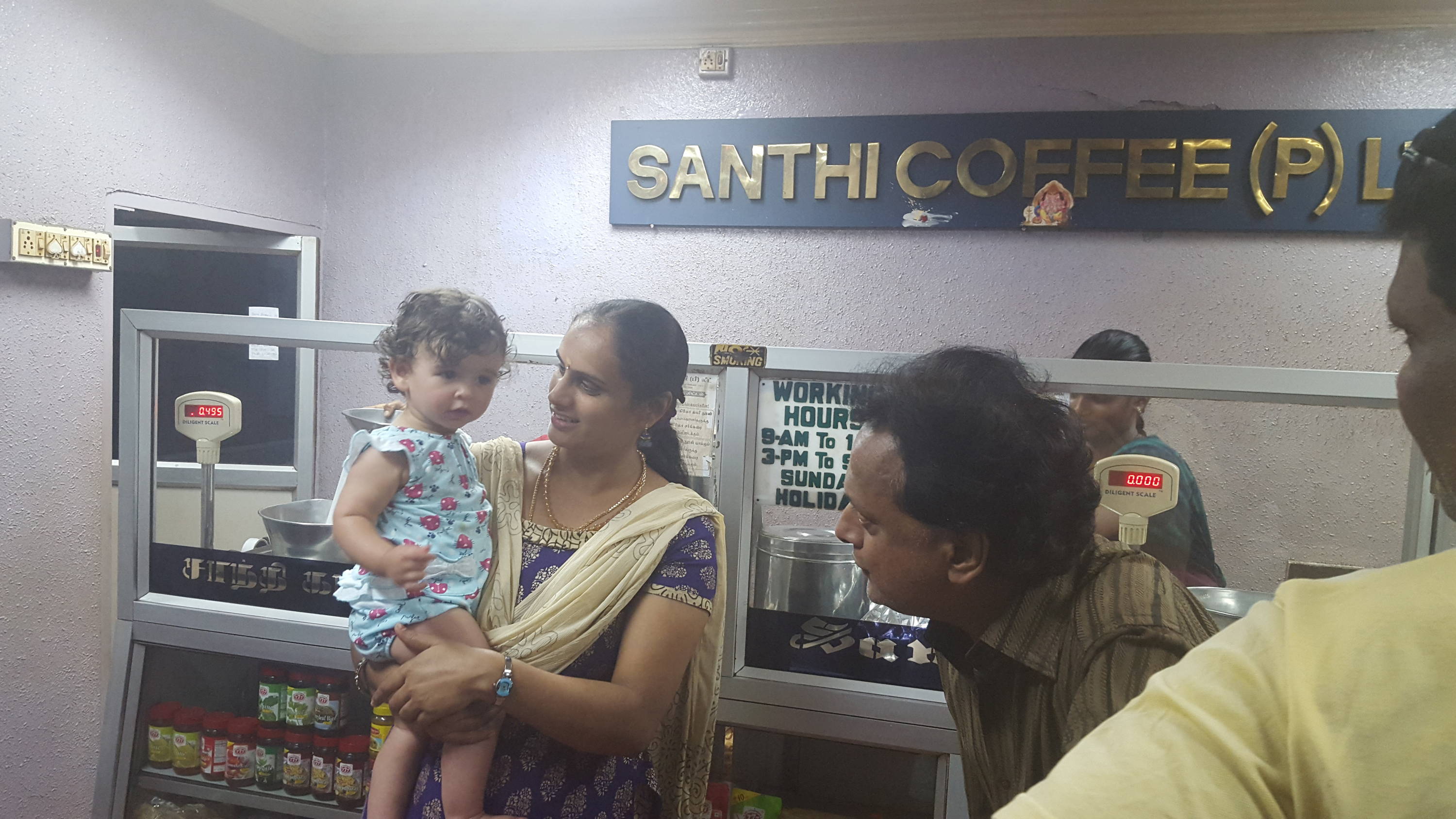 Have a great time in India!
Just remember it will be VERY different from where you are from (wherever that is), and you will have some very new experiences that you'll never have anywhere else.
Try not to compare India, just embrace it. Go with the flow, then you can really enjoy yourself!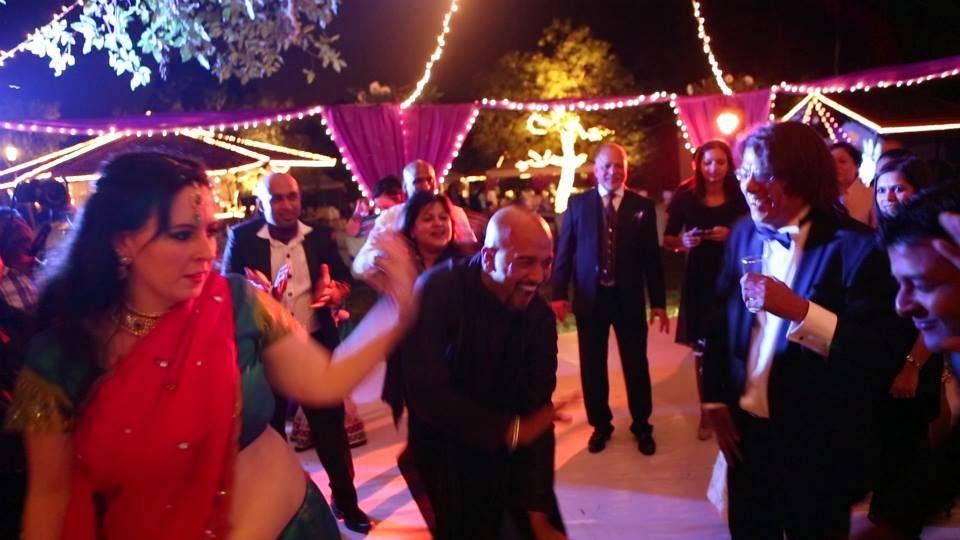 I went with the flow, after 4 years I met my husband (the hot bald guy) and got married in India! :)