Secrets to holiday in Hoi An Vietnam with your baby

Sleep at Vinh Hung Riverside Resort Hoi An
Vinh Hung Riverside
Resort is the best accommodation when travelling to in Hoi An for a young family. The staff are very friendly and helpful, we travelled with a 3 year old and 14 week old. They provided a large portacot which was already set up when we arrived.
There are two pools including a large pool with a small shallow kids area which also has a swim up bar - great for adults and kids having mocktails!

The location of Vinh Hung Riverside Resort is fantastic; about a 3 minute walk from the night market and 5 minutes walk from Hoi An old town. There are many restaurants within very easy walking distance. They have a free boat ride to the old town a few times a day. For an introduction to local food there is a free market each day in the gardens with various foods to try. The buffet breakfast is great with an egg station, noodle soup station, Banh Mi station (Vietnamese baguette with various fillings), cereal, pastries, coffee, (try the Vietnamese coffee!). The rooms are clean and large and perfect for a family.
I'm a bit of a crazy researcher, so I've put together my best advice on everything to consider when booking accommodation for kids.
Eating with kids
Red Gecko is a great option, about 3 minutes walk from Vinh Hung and 2 minutes from the bridge from Old Town. We ate here 3 times, and were happy with the food and service each time. Their toilet was clean and easily accessible for our 3 year old daughter, we needed to carry our pram up the steps, but we were able to wheel it to the side and keep it out of the way of other patrons. They have a few western options on the menu (our daughter tried a burger below) and great smoothies! Us parents also enjoyed trying some of the local Hoi An dishes.
Morning Glory is arguably the best restaurant in Hoi An, and we agreed their food was great, the line out the front each evening was also indicative of its popularity. It's modern and a little fancy, (and somewhat pricey, but we felt it was well worth the price). They were very good with kids, the only draw back being the stairs which was a little annoying with the pram. Our 3 year old was happy to eat plain rice and spring rolls and try a little of our local dishes such as the White Rose Dumplings, and Banh Xeo (crispy pancakes).
Madam Khan the Banh Mi Queen has possibly the best Banh Mi in the world. It took us a while on foot (maybe 30+ minutes) and google maps to find, it was through the other side of the Old Town down a side street. There was a line for the food, but they had a few tables to sit at and we managed to squeeze in with the pram. Our 3 year old had a plain Banh Mi and was quite happy with it.
Night Market Our family LOVES to eat local food especially street food when we are travelling, so we were happy to find a lot of it around Hoi An. At the night market especially from about 4pm there were lots of things to try such as Banh Xeo (crispy pancakes), Banh Mi, banana and nutella pancake and even burgers.
Activities
Boat Ride from Vinh Hung Riverside. The free boat from the resort was actually really fun for the kids, we were able to see a lovely view of the banks and the buildings in the old town while we were sailing past. We managed to get the pram on board without too much hassle too!
Swimming in the resort pool. My husband and my daughter were very happy spending hours swimming in the resort pool and having watermelon juice.
Bicycle riding. Some families were riding bicycles around Hoi An, but we didn't try this as we had a 14 week old and a 3 year old. Cars are not allowed in the old town, so it looked a great way to get around.
Night Market. We went to the night market several nights there were many stalls our daughter enjoyed, in particular she found one with fidget spinners. She also liked the small kids bags at one of the stalls at the end of the market, and we bought quite a few miniature food magnets to use in her kitchen at home such as tiny bowls of noodle soup. We also bought some traditional Vietnamese costumes for the kids, fans, and handmade paper cards.
An Bang Beach. We only went here in the evening for dinner, there were many restaurants along the beach to choose from, friends of mine went swimming here during the day with their 5 and 7 year old and said it was a beautiful beach.
Ancient Town Hoi An is famous for the ancient/old town that has beautiful old buildings and lots of shopping. I had a laptop bag made from leather that I chose; it was made in around 24 hours for about $100 AUD. They will deliver to your hotel if you are on a tight schedule. You can also get shoes made, almost any design if you find pictures online for ideas. The quality can vary, so it's probably best to do a cheaper "test" pair if you are planning to get a few pairs made.
Local Market. The boat from Vinh Hung Riverside Resort stops just beside the market, our daughter and us alike enjoyed seeing the bright coloured fruits, clothing, local cooking utensils etc.
Activities in your room and at dinner We always bring a kids activity pack with us which comes in handy on the plane, at dinner when waiting for food to come, and just when chilling in the room.
I created this activity pack myself, it has tons of games, puzzles, mazes and crafts for kids. It also comes with a travel journal where you can record your holiday memories with your child.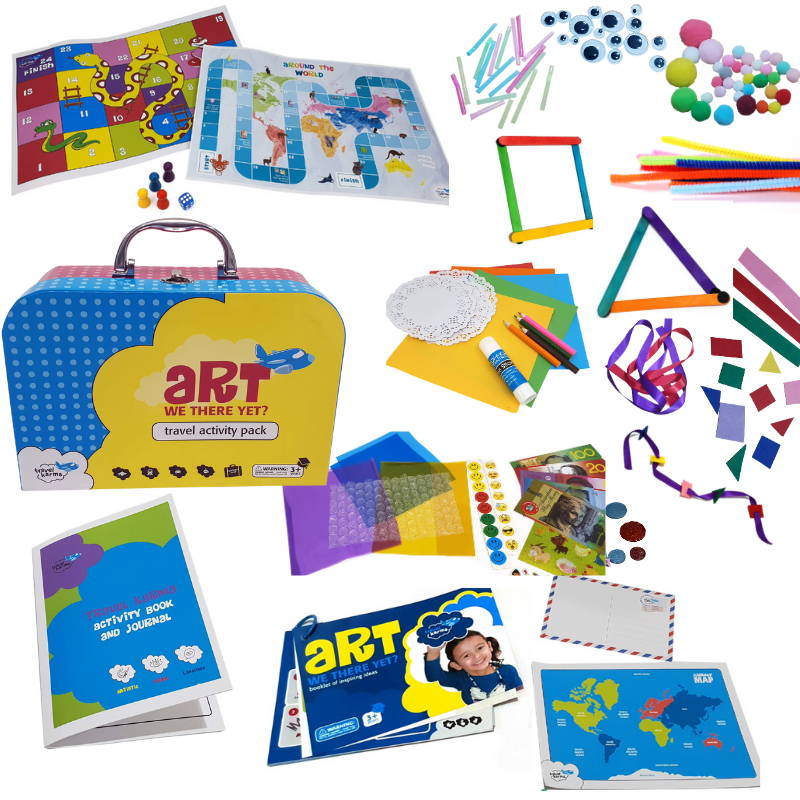 Coffee!
Hoi An Roastery has several locations around old town which you will see when wandering around, it has all the coffee options you'd expect, as well as Vietnamese coffee. We particularly enjoyed trying Egg Coffee which sounds very weird but actually amazing, it has egg white in it, we can only recommend that you trust us Melbourne coffee fans and try it, you won't be disappointed!
Cocobox is similar to Hoi An Roastery, a specialty coffee place which also sells lots of coffee and tea products and has all the coffee options you'd expect in a western cafe. Our 14 week old son had a snooze there on the loungey area.
Molly's Coffee For coffee closer to Vinh Hung Riverside Resort, I walked to Molly's coffee on the street where the night market it, which was passable. It was not Melbourne standard coffee, but good enough when needing a coffee fix after the 14 week old had been awake very early.
Overall we really loved Hoi An and with such young kids, we spent a lot of time in our hotel, being so family friendly it really made for an enjoyable stay.
You'll need a packing checklist list if you're traveling with kids, I've created one for what to bring on the plane, and what to pack in your check in luggage, grab it here.