How to get a bassinet on a plane for your baby
Are you planning a trip with your family in 2020?
I've traveled overseas dozens of times with my kids since they were newborns. In this time I've been through the planning process and have it down pat.I'm sharing my trip planning checklist with you, to make your travel planning calmer and reduce your stress in the process.
It includes steps from 3 months before (vaccinations, passports, travel dates, flight and accommodation) up until the day you leave including a checklist of what travel documents to tick off before you leave the house.

How to get a bassinet on a plane for your baby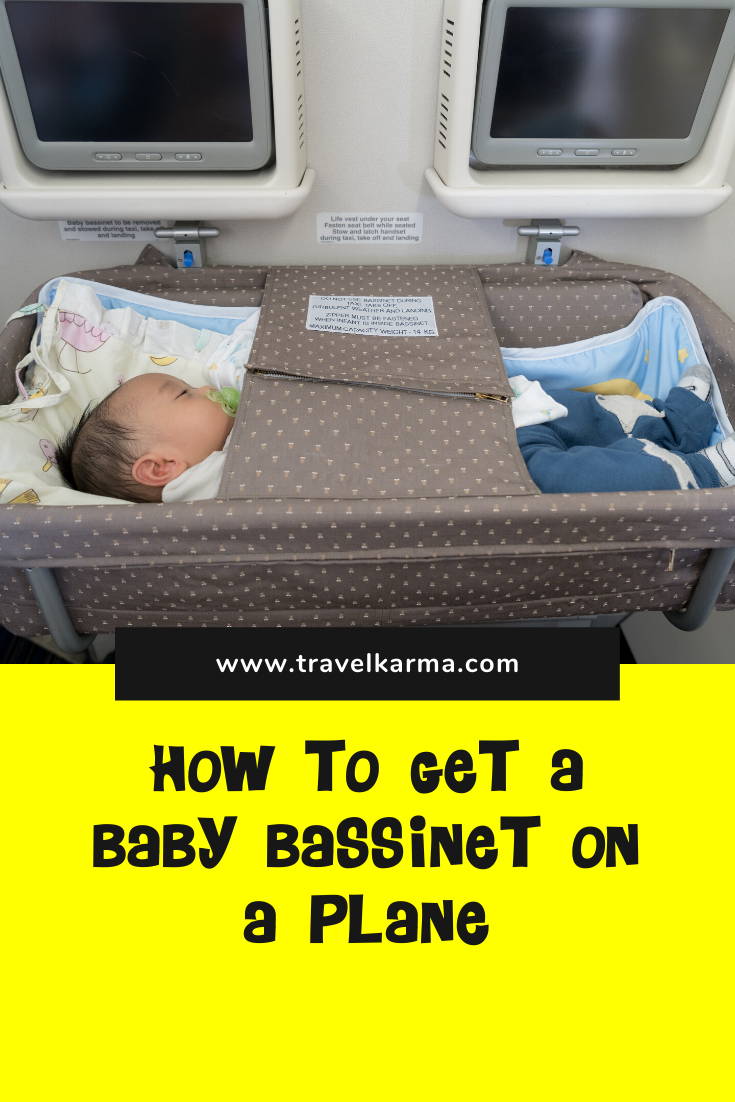 For starters, you may be thinking, what the hell is a bassinet? I remember being very curious on my first flight with my daughter when she was 7 weeks old. We were flying from Melbourne to Thailand which is a 9 hour flight. I was thinking how are they going to attach this thing to the wall, how will it look, will there be any space for us?
Here our daughter is asleep in the bassinet.
This was great on the way over, on the way back however there were 8 babies on the plane, and I didn't manage to get a bassinet (!) Read here, what to do if you don't get a bassinet on the plane.
Getting a bassinet for a baby on a plane on a long haul flight can be a lifesaver. You don't have to hold onto your child for the entire flight and your child will be more comfortable sleeping in the plane.
Some airlines will tell you that you can reserve a bassinet, but after travelling many times with my children, even as newborns, I've had the experience of being assured I had a bassinet reserved then arriving at check-in and being told there are too many babies on the plane and I no longer have one.
Firstly, try to request a bassinet. Call or ask your travel agent to book one, and call 1 week before and again 48 hours before to ensure the details are mentioned on your booking. Even so this does not guarantee you'lll get a bassinet.
The best tip for getting a bassinet on the plane is checking in as early as possible. Even if they say on the phone you have the bassinet and you have double-checked, it does seem to be first in best dressed. So if you arrive very early to check in and are there before check in even opens then you will be the first parent with a baby to check in. If you also have the bassinet "booked" because you have called up earlier, then you should be pretty fine to get the bassinet.
You can also try to "hack" the system by booking your seats where there are the facility for bassinet's on the wall. If you look on seatguru you can see where the bassinets are on a plane. You can see a screenshot here, and that there are bassinets on the wall at row 42. So you may be able to choose your seats in row 42 and automatically get the bassinet. Please be aware though, your seats may be changed on a flight, so it's still advised to get to check in very early, and call in the airline to make sure you have a note that you want a bassinet on your ticket.
Some airlines also give preference to the youngest babies, so be aware of this if your child is on the older side (closer to 12 months). My son slept in a bassinet at 9 months, but then when we flew at 12 months my children would no longer sleep in the bassinet. I have heard of some people's baby sleeping in them over 12 months though, so it depends on your and your child. On international flights children can be allowed to use the bassinet up to 18 months depending on their size, but it didn't really work out for us when they were that big.
Seat guru also has a section on their website where you can research each airlines infant policy. You can see the infant section that you can click on which will give more details of each airlines policy.
Here is the infant policy for Thai airways to give you an idea of the information available on seat guru.
Once you are on the plane, the cabin crew will usually put the bassinet on the wall after the plane has levelled out following take off. If they haven't yet done so, you can ask them to do it.
If there is any turbulence they may ask you to take your child out of the bassinet, and may even remove the bassinet from the wall. If the seat belt sign is on, then you must have your child in your arms with the infant seat belt buckled.
Follow these tips and your flight will be much easier with a bassinet. I would also recommend reading what to do if you don't get a bassinet, as it can never really be guaranteed if there is a baby younger than yours or they arrived earlier or booked earlier. There are ways you can manage, read more here.
Comment below how did you get the bassinet seat? Did you baby sleep in it?
Are you flying soon with a baby? Download our printable checklist for packing for a baby.