Best Tips for accommodation with kids, toddlers and babies
Are you planning to travel overseas with your family in 2020?
I've traveled overseas dozens of times with my kids since they were newborns. In this time I've been through the planning process and have it down pat.I'm sharing my trip planning checklist with you, to make your travel planning calmer and reduce your stress in the process.
It includes steps from 3 months before (vaccinations, passports, travel dates, flight and accommodation) up until the day you leave including a checklist of what travel documents to tick off before you leave the house.

What to consider when researching accommodation with young children, toddlers and babies.
Steps in the hotel
How many steps are there to climb to get to the room? Always read reviews online before booking and if there is not an elevator to a first or second floor, then request a ground floor room. This will allow you to avoid multiple trips up and down stairs with small kids, bags, prams etc.
Also consider steps in the grounds of the accommodation, or in a car park, these can be tricky to navigate when you are alone with the pram, kids etc.
Noise
Does the room or hotel have any bars nearby? If is it a large hotel with bars, ensure you request a room far away from anywhere that may have late night noise that may keep your kids awake. Also consider traffic noise, construction noise – this can be a problem during the day if you have kids who need to nap.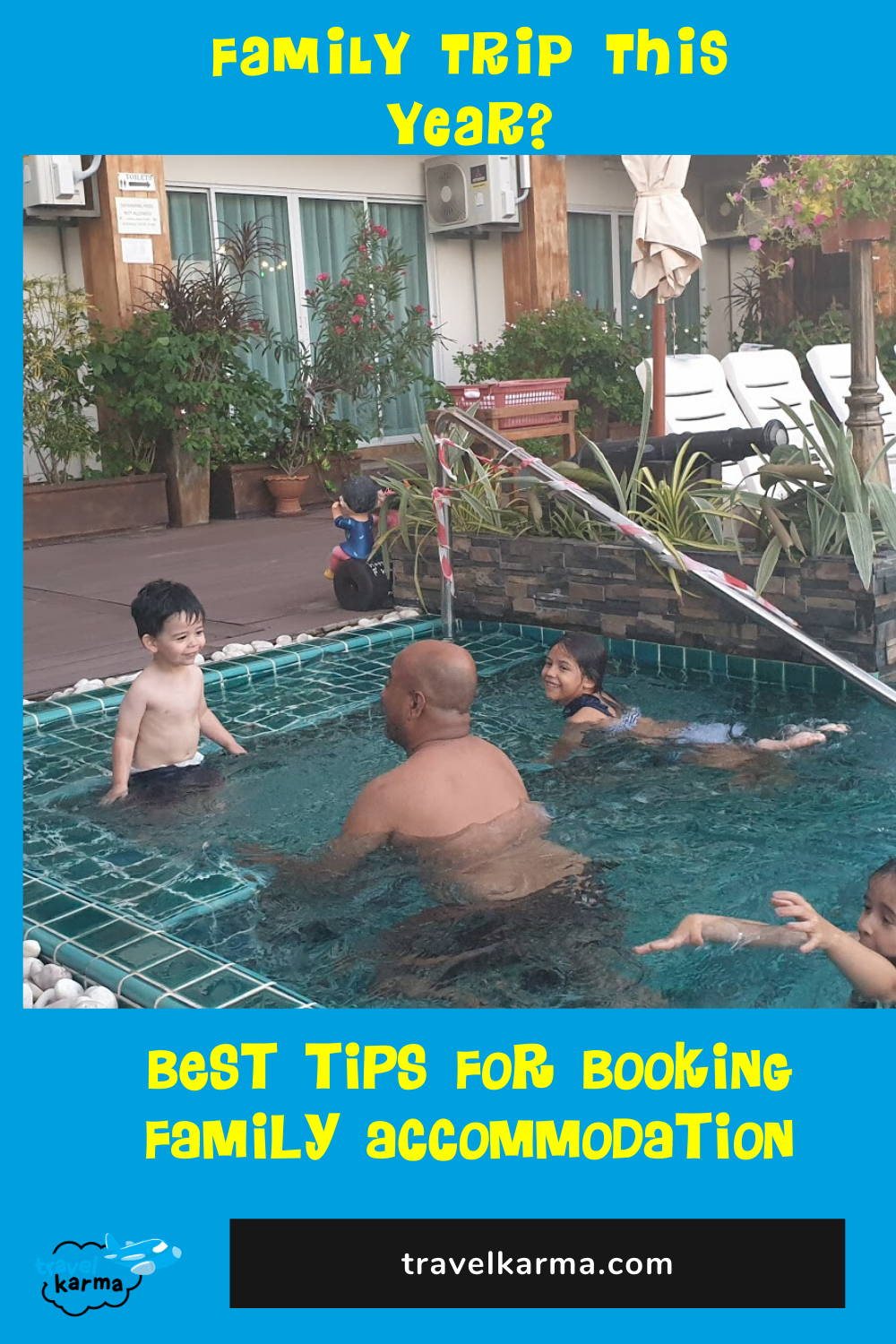 3. Location.
Not only the location of the accommodation in relation to shops, attractions etc. but also the location of the room in the hotel. You may wish to request a room closer to the lift, or closer to the pool, breakfast restaurant etc. Some hotels can be very large and spread out which can be inconvenient with small children and all their paraphernalia (prams, nappy bags, etc).
4. Beds and portacots
How many beds do you require, most hotels will have a portacot for very young kids, often at no charge. We still brought our own travel cot when our babies were small as we weren't sure of the quality of ones in our accommodation. We also sometimes stayed with friends or family and thought it was better to be overprepared than underprepared. This portacot is a phil and teds one that we bought. The best thing about it is it fits inside a suitcase when it's packed up and it weighs less than 3kg.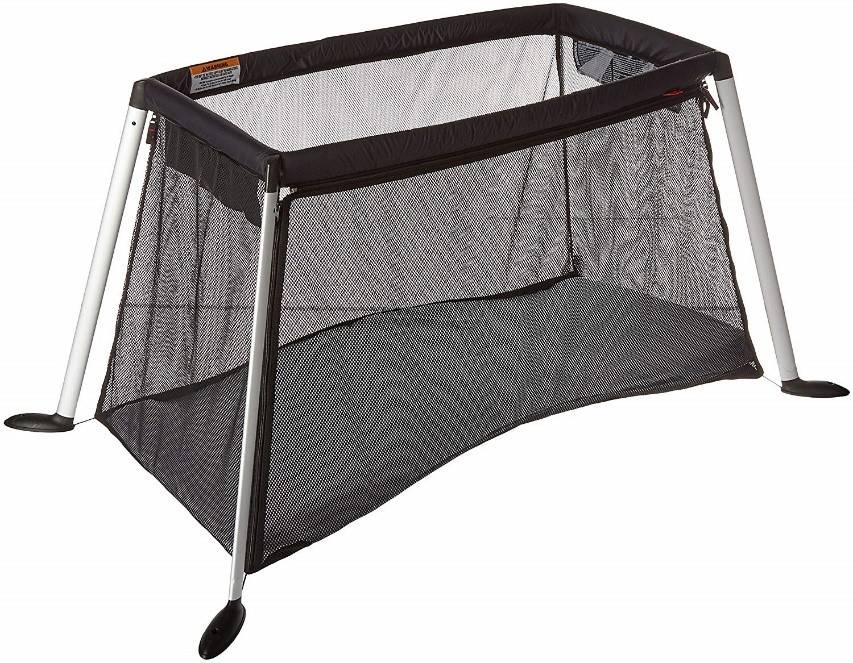 Separate bedrooms
If your children are going to go to bed hours before the parents you may want to consider having separate bedrooms where you can settle them down and then have another room to spend time in before going to bed yourselves.
Food
Ideally you will want restaurants very close by and/or a restaurant with some familiar food for your kids. In Asia we have found our kids are usually fine with eating rice, flat bread, chips, vegetables etc. when we are in restaurants that don't cater specifically to kids. I personally always get accommodation with a buffet breakfast as there are many kid friendly options available, so we can start the day with a full tummy.
Kitchenette
It's very convenient and can be cost effective to have a kitchenette available when travelling with kids. This can be used for heating food in a microwave and also preparing breakfast, sandwiches etc and foods that are kid friendly.
Pool and other activities
Kids generally love playing in a pool, so accommodation with at least one pool with some area shallow enough for young kids is a lifesaver, especially if you are holidaying somewhere with a hot climate. You can read more here about a great place we stayed in Vietnam with a fantastic pool for the kids.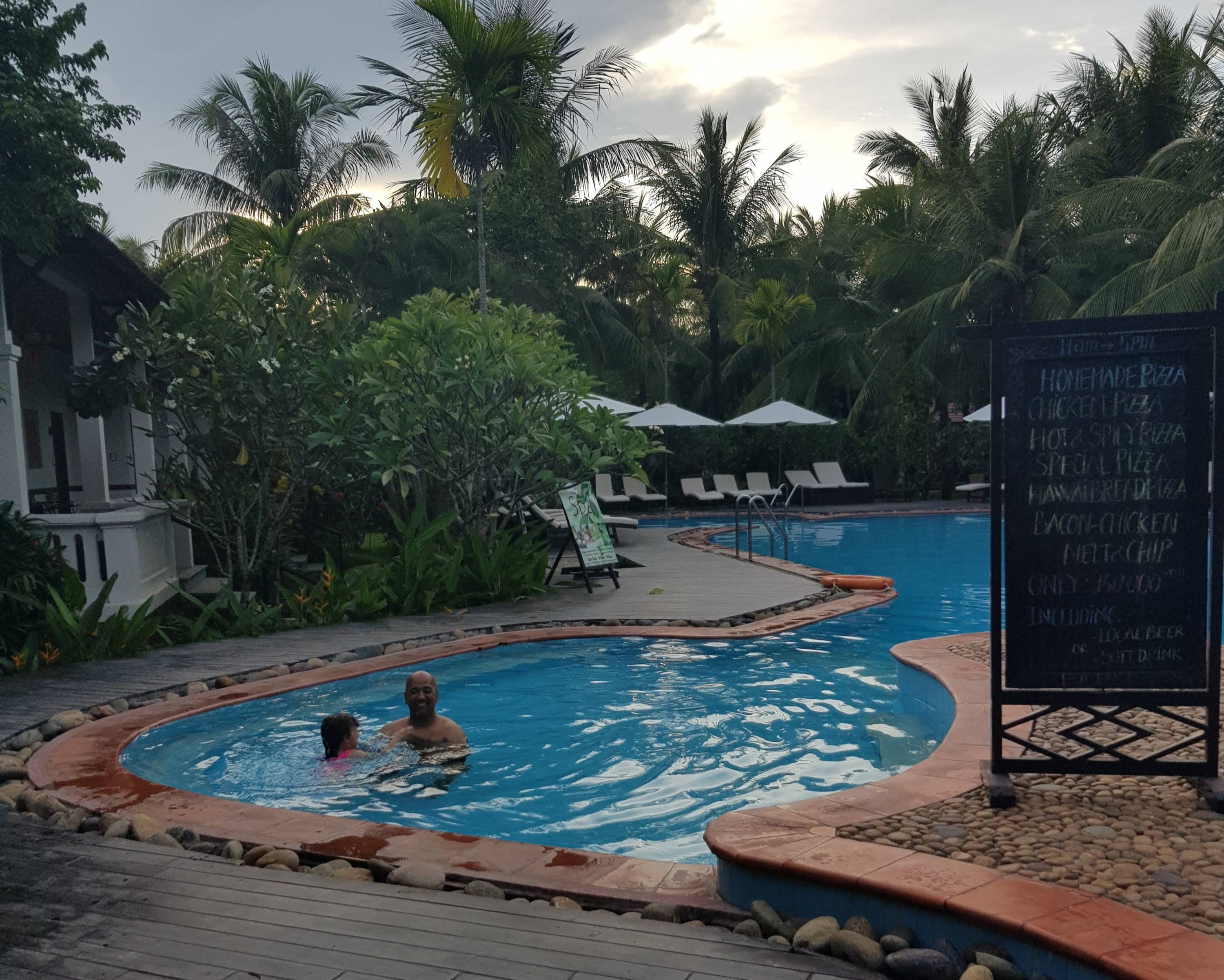 In summary booking apartments with a kitchenette, in a resort with kid-friendly pools, can be ideal. As long as there is also a restaurant, buffet breakfast and the rooms are on the ground floor, not too noisy, and close to the amenities you wish to use.
Traveling soon with kids? I created this packing checklist and perfected it after dozens of long haul flights with my children as babies and toddlers. Download it here.